IMG Academy honors the class of 2013 at annual commencement ceremony

Bienvenidos. Willkommen. Welcome. Yesterday, the thirteenth annual commencement ceremony of 146 student-athletes at IMG Academy took place in the Neel Performing Arts Center at the State College of Florida. As the most culturally diverse private school in the world, senior representatives from 42 nations introduced themselves and welcomed the audience in their country's language.
Salutatorians Cynthia Guerin and Jordan Lippetz were then introduced by English instructor Brent Pottieger and science department chair Lori Gubernat, respectively. Guerin relayed the message that what is done in the present will dictate how the future pans out while Lippetz summed up her time at IMG Academy in one word -- unexpected. 
Next, senior Greta Polo from Milan, Italy presented the outstanding educator award on behalf of the graduating class to Michelle Filicetti, a psychology and American history teacher. 
Following a vocal trio performance from faculty members James Albritton, Brent Pottieger, and Eric Van Zytveld, English teacher Steinur Bell introduced valedictorian Samy Ramadane, who earned an impressive 5.09 GPA and scored a five on each of his ten AP exams. His humorous speech highlighted the unique experience IMG Academy offers in providing students the opportunity to intensively exercise their athletic passions every day alongside professional athletes, while simultaneously pursuing their academic studies. He also encouraged students to selfishly tackle obstacles standing before their goals.
Mark Blaweiss, the director of college planning, placement, and NCAA education, continued the ceremony with the presentation of the George Garnett Spirit Award, honoring the memory of former IMG Academy technology teacher. Blaweiss listed student body president and basketball team captain Josie Traberg at the top of his short list of students that have left a lasting memory at IMG Academy.
To demonstrate student-athletes and staff stepping outside of their comfort zone and projecting their inner voice, headmaster Richard Odell displayed a flash mob video, featuring student-athletes, coaches, faculty and staff from every area within IMG Academy.
Finally, the presentation of diplomas commenced, and students received three roses apiece to distribute to their family and friends.
In a speech that underlined the significance of "carpe diem," Arantxa Garduño, a native of Mexico, bestowed a paver in the new stadium as the senior gift to rising senior Jessica Modlin.
At the conclusion of the ceremony, the graduates of IMG Academy moved their tassels from the right to the left and kicked off the celebration by throwing their graduation caps into the air.
connect with us & get a guide
Contact Us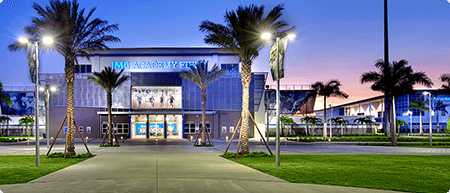 5650 Bollettieri Boulevard
Bradenton, FL 34210
Fill out the form below and we'll be in touch soon!
Request a brochure
We offer downloadable brochures about our boarding school, youth camps, adult programs, team training and pro/collegiate training in multiple languages.
Visit Us
Are you interested in touring the IMG Academy campus? Fill out the form below to submit a tour request and we will be in touch soon to confirm your request.