IMG Academy at the IAAF World Championships

At the 2013 IAAF World Championships taking place in Moscow, Russia, the day of Friday, August 16 began early with a team breakfast in the Italian camp as tey prepared for the women's 4x400m Relay. The first round competition would decide who would make the final eight for the big dance on Saturday evening's featured time slot.
The morning session did not disappoint, as the Italian foursome, anchored by IMG Academy trainee Libania Grenot, attacked the field of sprinters from India, Romania, Czech Republic and Ukraine with vengeance. Grenot took the baton down almost 15 meters going into the last lap and bridged the gap by the 200-meter mark. Biding her time, she shadowed the Ukrainian anchor through the third 100-meter segment, and coming into the final straight began a long surge that culminated in a dive for the finish line. The result was a victory by 0.01 second to secure the coveted second automatic qualifying position.
This finds the Italian women's team in the final of the World Championship 4x400m for the first time in recent history.
The culminating event of the evening schedule was the Men's 4x400-meter Relay featuring the newly crowned world Champion in the 400-meters, LaShawn Merritt on the anchor leg. The team executed flawlessly and LaShawn notched a smoking 10.1 in the first 100-meters, and followed through in 10.2 down the back stretch. The gap only widened, and he was able to comfortably bring the baton home for his second gold medal performance of the championships.
Meanwhile in the men's long jump, Li Jinzhe of China made a valiant effort after sustaining a tragic training accident 10 days ago when a 90-kilogram barbell landed on the toe of his non-take off leg. By virtue of the fact he qualified for the final, Jinzhe solidified his tenacity index as a competitor.
Photo by: Getty Images
connect with us & get a guide
Contact Us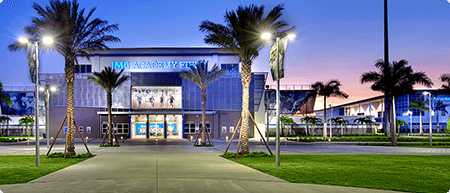 5650 Bollettieri Boulevard
Bradenton, FL 34210
Fill out the form below and we'll be in touch soon!
Request a brochure
We offer downloadable brochures about our boarding school, youth camps, adult programs, team training and pro/collegiate training in multiple languages.
Visit Us
Are you interested in touring the IMG Academy campus? Fill out the form below to submit a tour request and we will be in touch soon to confirm your request.