IMG Academy improves to 5-0; knocks off The First Academy, 35-5

The IMG Academy football team was tasked with defending its home turf against The First Academy out of Orlando, Fla. on Friday night. The Royals were a Florida Class 3A semifinalist in 2012, and entered the game with a 3-1 record on the season. However, the night belonged to IMG Academy. The Ascenders struck early with a 61-yard strike from QB Michael O'Connor to RB Jack Wegher and never looked back. The Ascenders advanced to 5-0, sending the Royals home with a loss by a score of 35-5.
"We had some big plays early in the game, and then they drove down and got the field goal at the end of the first half, but our guys came out and fought hard in the second half and were able to do some things," remarked Head Coach Chris Weinke after the win. "We still haven't really put together 48 minutes, but we're making progress every week, and that's important."
The offense was a model of efficiency, moving the chains and controlling the clock. The offense was balanced, accumulating 168-yards on the ground, and 164 through the air. After his perfect 61-yard strike on his first pass attempt, Penn State commit O'Connor was poised and in control, adding another touchdown pass when he completed a two-yarder to RB Mike Daniel to put the Ascenders up 14-0 early. The Ottawa, Canada native finished 11-of-19 passing for 164-yards.
"For the past two weeks, Coach Weinke has been preaching 'start fast, start fast,' and we started with two three-and-outs, so we knew we had to come out and make a statement early," O'Connor said of his performance. "After we hit that [first touchdown pass], it got us on a roll and we settled in."
O'Connor was aided by RB Bo Scarbrough, who accumulated 135 yards on 15 attempts (9 avg.), and added three scores of his own (33, 2, 6-yards). The Alabama commit has developed a special chemistry with his quarterback, and it appears to have an effect on their play, with the Ascenders achieving near perfect balance in offensive production.
O'Connor explained how Scarbrough impacts his game: "We're good friends off the field, we hang out a lot. He's also great in pass-blocking and he helps me by just having him in the backfield, because it opens up things for me in the passing game. We'll have a pass rush coming from the right, and he'll cut across my face and pick up the blitzing linebacker – not a lot of high school running backs that can do that."
Additionally, the Ascender defense put on a show of their own, only allowing 210 total yards of offense. Most impressively, the Royals attempted 64 rushes, but only managed a meager 3.1-yards per carry. IMG Academy only yielded a single offensive score; a field goal late in the second quarter. DE Kyle Forde also turned in another impressive night, recording three sacks. He was joined by LBs Nick Thomas and John Tauber, who also recorded one sack each.
The Ascenders will attempt to preserve their unblemished record when they take to the road next week, traveling to Miami, Fla. to take on the Monsignor Edward Pace Spartans on Oct. 4. Kickoff is scheduled for 7:00 p.m.
Box Score
First Academy (Orlando) 5, IMG Academy 35
First Academy ... 0 5 0 0 — 5
IMG Academy ... 14 7 7 0 — 35
First Quarter
I — J. Wegher 61 yards pass from M. O'Connor (J. Dick kick), 9:01
I — M. Daniel 2 yard pass from M. O'Connor (J. Dick kick), 2:15
Second Quarter
F – Safety, J. Dick tackled in endzone, 7:34
I – B. Scarbrough 33-yard run (J. Dick kick), 5:25
F – L. Sheer 22-yard field goal, 0:02
Third Quarter
I – B. Scarbrough 2-yard run (J. Dick kick), 8:31
Fourth Quarter
I – B. Scarbrough 6-yard run (J. Dick kick), 6:02
Team Statistics
First Academy // IMG
Rushes-Yards ... 64-203 // 26-168
Passing Yards ... 164 // 7
Comp-Att-Int ... 2-4-0 // 11-19-0
Fumbles-Lost ... 1-1 // 0-0
Penalties-Yards ... 7-60 // 12-100
INDIVIDUAL STATISTICS
RUSHING — First Academy, Trypp Washington 11-35, Mason Plante 23-130, Chase Cramer 9-30, Hayden Rymer 5-(-15), Jordan Hylton 6-23. IMG, Bo Scarbrough 15-135 3TD, Jack Wegher 3-23, Michael O'Connor 2-(-5), Mike Daniel 3-15
PASSING — First Academy, Hayden Rymer 2-4-7 0. IMG, Michael O'Connor 11-19-164 2 TD.
RECEIVING — First Academy, Garrett Williams 2-7. IMG, Jack Wegher 3-90-1 TD, Bo Scarbrough 2- (-1), Mike Daniel 1-2-1 TD, Casey Gunderson 4-55, Clark Thomas 1-8, Shane Dixon 1-13.
connect with us & get a guide
Contact Us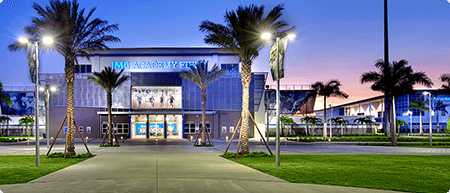 5650 Bollettieri Boulevard
Bradenton, FL 34210
Fill out the form below and we'll be in touch soon!
Request a brochure
We offer downloadable brochures about our boarding school, youth camps, adult programs, team training and pro/collegiate training in multiple languages.
Visit Us
Are you interested in touring the IMG Academy campus? Fill out the form below to submit a tour request and we will be in touch soon to confirm your request.