IMG Academy kicks off regular season with 21-6 victory over Olympia High School

The IMG Academy Ascenders played their first-ever regular season football game on the road at Olympia High School in Orlando, Fla. on Friday, Aug. 30. A weather delay postponed kickoff by 45-minutes, but the Ascenders would not be denied, putting the Titans down by a 21-6 margin. The defense led the way, limiting the vaunted Olympia offense to only 199 total yards (64 rush, 135 pass).
"It was a tough battle; it was the first time this football team went on the road against a very good opponent and came out on their home turf and played hard the whole night," said Head Coach Chris Weinke after the game. "We were in a dog fight – it was only 7-0 at the half, we struck early in the second half and it gave us a little momentum, but I think all-in-all, it's always nice to get the victory."
Weinke added: "Our defense did a great job, the coaching staff prepared them well, and hats off to Olympia. They have a lot of good athletes on the offensive side of the ball, and our defense held on when they needed to and got the stops when we needed them."
Leading the way for the Ascender's defensive attack was a ferocious pass rush that picked up five sacks on the night. Canadian DE Kyle Forde contributed three of those sacks and kept Olympia QB Deondre Francois from ever getting comfortable in the pocket.
"We trained hard all week, so I felt like this was something that we had to do, we were ready for it, we had a lot of confidence, great coaching and we came out ready to play," remarked Forde. "We saw that they were trying to come back in the second half, but we kept fighting till the end."
However, another key play in the defense's effort to shut down Olympia's attempt at a comeback was when safety Shane Dixon of Tampa, Fla. snatched an interception in the endzone and returned it 77-yards, preventing the Titans from making it a one possession game.
Offensively, the team was challenged by the speedy Olympia defense. The team finished with a combined rushing total of 138 yards on 14 carries, but RB Mikey Daniels put his name into the IMG Academy records book when he put the first regular season points on the board in the team's history.
"It was huge, actually, but I'm not going to even take credit for that one though, because the line blocked it wide open and I just ran through the hole – that simple – untouched," Daniels said of the milestone score. "We made a statement tonight."
On the ground, it was clear that Olympia was keen on slowing down RB Bo Scarbrough, but the Tuscaloosa, Ala. native found his groove in the third quarter, averaging 6.7 yards per carry during the period and scoring a touchdown. The University of Alabama commit finished with 13 carries for 68 yards (5.3 avg.).
In the air, Penn State commit, QB Michael O'Connor of Ottawa, Canada, showed off his arm strength with a 50-yard strike to WR Casey Gunderson of Sarasota, Fla. early in the third quarter. The score gave the Ascenders momentum on their way to the win. O'Connor finished 14-of-28 passing with one touchdown and one INT.
The Ascenders will take the field next week to defend their home turf when they face North Miami Beach High School at IMG Academy Stadium on Friday, Sept. 6 at 7:30 p.m.
For schedule and ticketing information, please visit IMG Academy's events website by clicking HERE.
Photo by: IMG Academy/Daniel Perales
connect with us & get a guide
Contact Us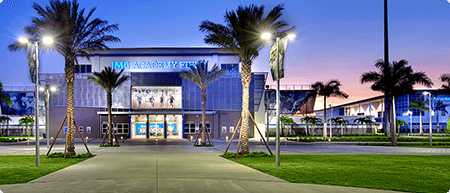 5650 Bollettieri BLVD.
Bradenton, FL 34210
Fill out the form below and we'll be in touch soon!
Request a brochure
We offer downloadable brochures about our boarding school, youth camps, adult programs, team training and pro/collegiate training in multiple languages.
Visit Us
Are you interested in touring the IMG Academy campus? Fill out the form below to submit a tour request and we will be in touch soon to confirm your request.