IMG Academy lacrosse program celebrates inaugural season at year-end awards banquet

After a highly successful inaugural season that saw the IMG Academy lacrosse team finish with an 11-1 overall record, with three exhibition wins over nationally ranked opponents and leading the entire nation in scoring for much of the year, the team, coaches, parents and program supporters came together at the first-ever year-end lacrosse awards banquet. 
"The awards ceremony was the culmination of an incredible year of our players' performance that reflected their commitment and dedication to not just their lacrosse and athletic interests, but also their academic pursuits," said Bill Shatz, Head Coach and Director of Lacrosse, IMG Academy. "They endured a great deal, to come together as a team, with what were some truly phenomenal first-year results."
Shatz continued, "The banquet is merely a moment in time to step back and recognize them and what they've done, as well as to recognize others - the coaching staff, our IMG Academy support staff who have done an incredible job and our fans, because without their support to allow us to do what we do, and encourage their kids to work as hard as they possibly can, it really has come together in an exciting way, and it's not an end to the season, but a new beginning to the next year and where we go from here." 
The ceremony began by recognizing the team and everyone that contributed to its success. The seniors were presented with their jerseys, and afterwards everyone enjoyed a highlight reel of the season. Director Bill Shatz then acknowledged and thanked everyone in attendance for all of their contributions toward the team's astounding success. 
The program gave out two awards. The first was the Academic Ascender Award, given to Nick Katz. Academically, Katz also won the Harvard Book Club award for the 2012-13 year. The second award was the Ironman Award, given to senior goalkeeper Parker Smith. 
More photos from the awards banquet: 
Photo by: IMG Academy
connect with us & get a guide
Contact Us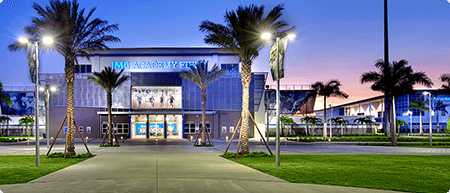 5650 Bollettieri Boulevard
Bradenton, FL 34210
Fill out the form below and we'll be in touch soon!
Request a brochure
We offer downloadable brochures about our boarding school, youth camps, adult programs, team training and pro/collegiate training in multiple languages.
Visit Us
Are you interested in touring the IMG Academy campus? Fill out the form below to submit a tour request and we will be in touch soon to confirm your request.