IMG Academy Lacrosse program earns second fall tournament title at IMG Nationals
The IMG Nationals, a year-end lacrosse national championship event, fielded 20 elite club lacrosse teams from around North America over the weekend at IMG Academy. In the U19 division, the final came down a rematch between the Ponte Vedra Possums and IMG Academy Lacrosse, who met earlier in the month at the annual Veteran's Cup. Both teams entered the game as the top-two seeds with undefeated records in pool play the day prior. Though it was a closer final score than before, the outcome was the same, with IMG Academy besting Ponte Vedra by a final of 10-3.
"The key this weekend was a lot of teamwork and a lot of transition on the ball – we were a little sloppy early on, but our kids got it together and made a lot of great plays to finish it out," remarked IMG Academy Defensive Coordinator Jason Basso after the win. "The kids really stepped their game up and played really well, and to see the evolution of this team over the fall and coming together has been great to see as we move forward toward the spring."
Basso added: "The combination of Ben French and Jonathan Thelen working that two-man game together has been nearly unstoppable, but then Nick Katz, Tyler Liotta ad Cougar Kirby stepped up, and then Parker Smith did an incredible job in goal."
The event marked the Ascenders' first opportunity to play inside of the recently completed stadium this fall, and the team made the most of it with their second fall tournament title on the year. For the seniors who helped build the team through its inaugural season, this championship carries special significance.
"The team played great, it was really a team effort and it's a great feeling to finish the fall season really strong and we couldn't have done it without everyone here contributing," said senior midfielder Nick Katz. "We did what we do in practice, everything we've trained for and we carried it onto the field… we're going to carry this momentum into the spring."
IMG Academy knocked off Team Louisiana in the semifinal, 13-3 to earn the berth into the final. Their opponent, the Ponte Vedra Possums entered the final coming off a 12-1 win over the Augusta Patriots.
connect with us & get a guide
Contact Us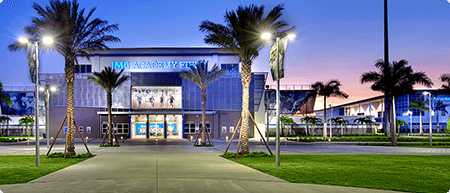 5650 Bollettieri Boulevard
Bradenton, FL 34210
Fill out the form below and we'll be in touch soon!
Request a brochure
We offer downloadable brochures about our boarding school, youth camps, adult programs, team training and pro/collegiate training in multiple languages.
Visit Us
Are you interested in touring the IMG Academy campus? Fill out the form below to submit a tour request and we will be in touch soon to confirm your request.