IMG Academy National Honors Society student-athletes help make wishes come true

When Joe Ginem was 15, he was diagnosed with a rare and deadly form of bone cancer. During remission Joe would struggle just to hold a pencil, but he still held a firm grip on his passion for music and playing the violin. The Make-a-Wish Foundation and wish granter Alene Fowler (Regional Director, Make-a-Wish, South Florida) provided Joe with a professional violin when they learned about Joe's passion for the instrument and his belief that it would give him "something to hold onto," during the tough months of cancer treatment. Joe spent hours a day practicing his new violin. Although, at times, the severity of his illness forced him to take breaks, or as he often would do, play through pain. But, Joe's passion for music was not halted there – Fowler and the Make-a-Wish Foundation granted Joe the opportunity to perform in front of friends and family at Carnegie Hall in New York City.
The Make-a-Wish Foundation makes dreams like Joe's come true every day. The IMG Academy chapter of The National Honors Society (NHS) and its student-athletes are proud to have the opportunity to assist kids like Joe to have their wishes come true. This year the NHS at IMG Academy has dedicated all fundraising towards Make-a-Wish, and on April 17th presented Alene Fowler and Sarah Robbins with $2,248 raised by the student-athletes that are a part of the IMG Academy chapter of NHS.
"We raised the money by selling care packages for exam week, hosting a St. Patrick's Day themed dance with raffle prizes and frozen yogurt, and by managing the dunk tank during the St. Patrick's Day Street Fair," senior Anne Gulsrud explains.
Another student-athlete, Miranda Proctor, talks about how out of place but hilarious it was to 'dunk' Headmaster Rich Odell, Dean Steve Schwager, Attendance Coordinator Howard Hochhalter, and English teacher Keith Russo in the dunk tank.
"Some kids would pay $20 to make sure they had enough throws to 'dunk' Mr. Hochhalter," Miranda explains. She notes that although the events put on by NHS were festive and social, they mean a lot Make-a-Wish and to the children whose wishes are granted.
IMG Academy NHS President Jordan Lippetz has dedicated countless of hours to make sure that all NHS fundraisers have been carried out well this year. She had always had a special interest for Make-a-Wish and was eager to initiate an NHS fundraiser dedicated to the unique foundation. "I have always been very passionate about giving back to the community and especially to children. I knew that Make-a-Wish would be a great organization to target and that the other NHS members and the IMG Academy student body would recognize the good deed of giving back to children who really need it."
Alene Fowler emphasizes the true value of the work put forth by the IMG Academy chapter of the NHS and the IMG Academy student body. Fowler remarked, "There are constantly new children that become sick and which meet the qualifications for Make-a-Wish... We need all the help we can get, and every donation, small and big, makes a difference in helping us grant more wishes."
Fowler is impressed by the efforts of the IMG Academy students to fundraise for Make-a-Wish and says "thank you" to all the IMG Academy students for all of the work and efforts they have put in. "Your support goes a long way and it is definitely going to make one child very very happy," said Fowler. 
Photo by: Mitchell Gallagher/IMG Academy
connect with us & get a guide
Contact Us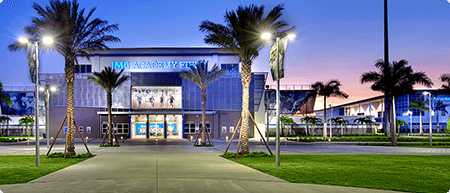 5650 Bollettieri Boulevard
Bradenton, FL 34210
Fill out the form below and we'll be in touch soon!
Request a brochure
We offer downloadable brochures about our boarding school, youth camps, adult programs, team training and pro/collegiate training in multiple languages.
Visit Us
Are you interested in touring the IMG Academy campus? Fill out the form below to submit a tour request and we will be in touch soon to confirm your request.