IMG Academy offers Post-Graduate Specialty Camp to springboard lacrosse players onto the collegiate level

With college right around the corner for many aspiring lacrosse student-athletes, the IMG Academy Lacrosse program offered its Post-Graduate Specialty Camp, Aug. 4-17 to best prepare them for the expectations and intensity of high-level, collegiate competition.
Bill Bjorness, a renowned NCAA lacrosse attackman, headlined the coaching staff for the camp. In his playing career, he not only became the Rochester Institute of Technology's first three-time lacrosse All-American, but also the lead scorer in the country in 1984. The Deer Park, N.Y. native also played forward for the RIT hockey team and helped the Tigers to the 1983 NCAA Division II National Championship. Bjorness, a coaching veteran of more than 30 years is ready to serve his 17th season as the head coach at Hartwick College this fall, so he knows what it takes to succeed at the next level. 
"I've done a lot of good stick work and focused on detailed, technical components to improve my game that I haven't experienced at any other camps," expressed Jacob Artuso (Pittsburgh), a rising freshman at Messiah College. "I have a much cleaner shot pass and all-around better technical abilities and field vision, which I know will be beneficial in the faster-paced college game."
With options of one-week and two-week training programs, the camp provided an immersion experience of two-a-day practices, game-level IQ education and daily athletic and mental conditioning training activities, emphasizing how preparation plays a key factor to achieving success. From the mental approach to the technical skills to the physical demand, it put into perspective the rigorous training required at the college level.
"The workouts were tough but camp has prepared me well for college," remarked Michael Berdusco (Bradenton, Fla.), an incoming freshman at Gettysburg College. "I'm a smarter player. The coaches have taught me a lot of things that I can't do on my own that I think Gettysburg would expect me to know. I've seen improvements in my defense, game strategy and slide packages. I've also learned that lacrosse is much more of a team sport than it is individual. You have to trust your teammates and know that they know what they're doing."
Artuso especially enjoyed the workouts and even requested extra workout sessions during his stay.
"They've been really good at tailoring the program to the individual," Artuso commented. "They're flexible in that you can tell them specific things you want to work on and they will devote more time to that component for you."
The IMG Academy lacrosse trainees look forward to carrying over the skills they've developed from camp to the NCAA field. 
Photo by: Cindy Yu
connect with us & get a guide
Contact Us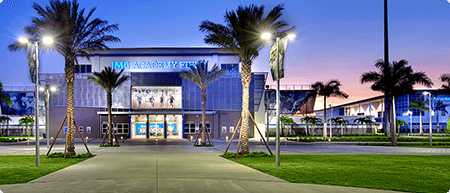 5650 Bollettieri Boulevard
Bradenton, FL 34210
Fill out the form below and we'll be in touch soon!
Request a brochure
We offer downloadable brochures about our boarding school, youth camps, adult programs, team training and pro/collegiate training in multiple languages.
Visit Us
Are you interested in touring the IMG Academy campus? Fill out the form below to submit a tour request and we will be in touch soon to confirm your request.