IMG Academy offers world class instruction to girls lacrosse players through weekly camps
As the sport of lacrosse is rapidly growing worldwide, the IMG Academy Lacrosse program is making sure that girls and boys alike have access to world class instruction and facilities through its camp programs. Joined by New York Athletic Club's post-collegiate team member Susie Piotrkowski, a former D-I student-athlete at the University of New Hampshire, IMG Academy has been offering weekly girls camps from July 7 through August 10.
"Bringing me down here opened up people's eyes because almost every aspect of the game from a female perspective is different," Piotrkowski said.
Piotrkowski, who also coaches for Rev Lacrosse, explained that with different lines, rules, equipment, shots, cradling and defensive play, the skills taught in girls lacrosse are slightly different and not easily translatable to boys lacrosse.
IMG Academy accommodates the different playing styles by dividing the boys and girls on two professional-caliber fields. With specialty-training areas for goalies and face-offs, an indoor (box) lacrosse facility and a newly constructed lacrosse-training wall, it provides a state-of-the-art atmosphere for girls lacrosse players.
"I love playing wall ball because there's a variety of things we can do like switch left-handed or back-handed," said Maya Fair, a rising eighth grader at SkyView Academy in Denver. "Training at IMG Academy is really special because not a lot of people get to come here and do this. I'm very excited to be here because it improves my lacrosse skills and makes me so much better for my off-season training."
The small camper-to-coach ratio creates a positive experience for the girls, especially since many of them are in their early developmental stages and are able to receive a lot of one-on-one time. Their training targets areas of improvement include dodging, face-offs, ground balls, shooting and stick protection.
"When I first came here, I didn't really know what to expect," said Sarah Ryder, an incoming freshman at Cardinal Gibbons High School in Ft. Lauderdale, Fla. "I've met a lot of great people from around the world and I've learned so much form Susie and all the other coaches. They've helped me tremendously with my defense and stick skills."
Campers study the key elements for success through classroom sessions, game simulations, mental conditioning, physical conditioning, scrimmaging, situational training, tactical training and video analysis.
Piotrkowski praises how much improvement physically and verbally she has seen in just one-week spans: "They came in a little bit timid, but by the end, they asked so many questions and really took in exactly what I was teaching them and applied it to the fields."
With nearly 70 countries represented in this year's camps and modeling a college-like environment, campers have the option of adding educational component to their program, such as an ESL class, SAT prep, TOEFL prep or high school studies.
IMG Academy attracts international participants such as lacrosse player Rina Takahashi from Yokohoma, Japan who traveled a great distance for the unique opportunity to learn English and simultaneously advance her athletic skill level.
Photo by: Zachary Dash
connect with us & get a guide
Contact Us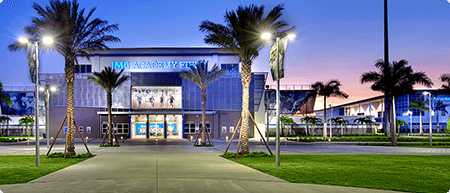 5650 Bollettieri Boulevard
Bradenton, FL 34210
Fill out the form below and we'll be in touch soon!
Request a brochure
We offer downloadable brochures about our boarding school, youth camps, adult programs, team training and pro/collegiate training in multiple languages.
Visit Us
Are you interested in touring the IMG Academy campus? Fill out the form below to submit a tour request and we will be in touch soon to confirm your request.