IMG Academy overcomes the weather and tough competition to claim the inaugural IMG National Classic crown

In the championship game of the IMG National Classic between IMG Academy and the St. John's College High School (Chevy Chase, Md.), it was all offense as the two teams put up 21 runs and 19 hits combined. However, IMG Academy chipped away, coming back from an early deficit to tally a 13-8 victory, and claim their second tournament championship of the season after winning the Cleats Classic Invitational in Tempe, Ariz. in March.
"I'm proud of these guys; this was our second tournament championship this year and we're going to come back next week and try to win our last game of the year," said IMG Academy head coach Jason Elias of the win. "We knew that in our plan, with our pitchers filling the strike-zone up and letting the teams beat the ball into creating outs for us…that good things would happen for us."
After the game, IMG Academy sophomore Eric Feliz was named the tournament MVP. In the game, Feliz notched two doubles in four at-bats, bringing in four RBI to give IMG Academy their first lead en route to the win.
"The ball was looking really big today – it was one of those games where you just knew you had things going your way," said Eric Feliz, after accepting the MVP award. "Being in my first year on the Varsity squad and coming up big in a game like this for these guys made me really feel like a big part of the team."
On Feliz, coach Jason Elias added, "Feliz doesn't over-think anything at the plate, and that gives me confidence as a coach – He just smoked the ball today."
IMG Academy junior Sam Proctor was the starting pitcher. He was followed by senior Connor Mulholland, who claimed the win. Mulholland allowed two runs over 2 1/3 innings. He struck out two, walked none and gave up one hit. Senior Brett Hanewich, a Stanford University signee, allowed no earned runs and struck out five during his 2 1/3 innings of work. Senior Mitchell Gallagher took the mound in the seventh to close.
Other standouts on the day included junior Jorge Davila, who collected two extra-base hits. He doubled in the second and fourth innings and singled in the third and sixth innings. Additionally, IMG Academy's Trevor Courtney (Sr.), Davila, Manny Ramirez, Jr. (Sr.), and Eric Feliz combined for nine hits and 10 RBIs.
For IMG Academy and St. John's, it was their second game of the morning after inclement weather prevented play on Thursday. Earlier in the semifinals, each team had to break late-inning stalemates to reach the championship. St. John's was locked in at 2-2 with Lambert High School (Suwanee, Ga.) before a sixth-inning run gave them the edge to advance to the final. Meanwhile, IMG Academy knocked off the No. 1 seed en route to the championship after defeating the St. Laurence Vikings (Burbank, Ill.) by a score of 6-5. Friday's final was also a rematch between the two squads, having previously met in the championship game of the 2011 Westminster Classic, held in Ft. Lauderdale, Fla, in which IMG Academy won. 
Additional Photos of the semifinals: 

Photo by: IMG Academy
connect with us & get a guide
Contact Us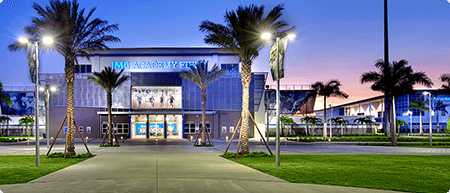 5650 Bollettieri Boulevard
Bradenton, FL 34210
Fill out the form below and we'll be in touch soon!
Request a brochure
We offer downloadable brochures about our boarding school, youth camps, adult programs, team training and pro/collegiate training in multiple languages.
Visit Us
Are you interested in touring the IMG Academy campus? Fill out the form below to submit a tour request and we will be in touch soon to confirm your request.