IMG Academy Preps For NFL Combine

The 40-yard dash is king at the NFL Combine.
Draft positioning and future earnings are sometimes settled in less than five seconds.
The IMG Academy NFL Combine Training Program has their guys ready.
IMG Academy's Director of Speed and Movement, Loren Seagrave, world-renown in his profession, has the 40-yard dash broken down by every step and every movement. On the Bradenton, Fla. campus, he's working with many NFL draft hopefuls on dropping time and hopefully raising their draft stock.
Players such as projected first rounders Bjoern Werner (Florida State), Eric Reid (LSU), Manti Te'o (Notre Dame), Tyler Eifert (Notre Dame) and Justin Hunter (Tennessee) start arriving at IMG in late December and they have basically two months to prepare for the NFL Combine. Seagrave says he can drop up to .4 seconds off an athlete's 40-yard dash time if they apply what they learn from him while on campus.
"What we tell the players every day, we're working on teaching them how to reduce the time it takes to put the required force on the ground by one one-hundredths of a second," Seagrave explained. "At the same time, we're teaching them how to recover the leg and put it back on the ground in one one-hundredths of a second faster. That means we're saving two one-hundredths of a second per step. Most people don't know how many steps are in a 40-yard dash. It's generally 19 to 21 steps, and we're saving two one-hundredths of a second with each step, and that's four tenths of a second improvement."
"People look at me and say, 'come on man, in six weeks you can't do that.'"
The Proof Is In The Pudding
Look no further than last year's NFL Combine.
If there was any doubt on the type of athlete Luke Kuechly was, the former Boston College linebacker silenced all the critics at the 2012 NFL Combine.
The 6-foot-3, 235-pound Kuechly went out and clocked a 4.57 second 40-yard dash to start the day. Unfortunately he slipped on his second run and came in at 4.78. Asked to go a third time, and now under a tremendous amount of pressure, and perhaps with some serious money on the line, Kuechly hit 4.59.
Boom.
According to Seagrave, Kuechly arrived at IMG a 4.8, 4.7 guy. What he did at the NFL Combine solidified him as a first round draft pick in April. He was selected No. 9 overall by the Carolina Panthers, where he went on to rack up 164 tackles and is the frontrunner to win NFL Defensive Rookie of the Year honors.
Kuechly touched down in Bradenton, Fla. at IMG Academy just a few months before his big day at the NFL Combine already pegged as a first rounder by most experts. However, for a player that registered a nation's best 191 tackles that fall, there was a question mark regarding his athletic ability. Seagrave and the rest of the experts within the Athletic and Personal Development Team at IMG made what was already a great player, into an even better one.
"He ran a 6.94 three-cone drill, which as an interior linebacker was impressive," Seagrave said. "He not only did well at the combine, but he continued to apply himself and did well this year."
There are many other success stories just like Kuechly's coming out of the IMG training program including guys like Carolina Panthers quarterback Cam Newton, Miami Dolphins quarterback Ryan Tannehill, Seattle Seahawks quarterback Russell Wilson (who tested like a defensive back), Washington Redskins signal-caller Kirk Cousins, Indianapolis Colts offensive tackle Anthony Castonzo and New York Jets receiver Stephen Hill.
Hill's story is very similar to Kuechly's. According to Seagrave, Hill clocked a 4.68 at IMG's first mock combine. He went 4.36 at the NFL Combine and got drafted with the No. 43 overall selection in the second round.
"This is not uncommon," Seagrave said. "Guys go through a whole season and get beat down and they don't work on speed. They're not taught proper technique before, and they're all sponges here. All we're looking for is a few milliseconds here and a few milliseconds there, and you get some outstanding performances."
Seagrave is looking forward to seeing plenty of outstanding performances at the upcoming NFL Combine.
"We have a bunch of guys doing a great job," he said. "Bjoern Werner, the Florida State defensive lineman has done an outstanding job. Eric Reid was one of the later guys to join us, the safety from LSU. Devin Smith the cornerback from Wisconsin, those three are in film study all the time. You can't turn around without seeing them in there. The work ethic of these guys, Manti Te'o, you don't get a better player than him in the gym. Margus Hunt, the former shot put and discus champ from SMU, just absolutely solid. I could list probably 25 to 30 guys that I've been unbelievably impressed by."
Which isn't easy to do.
Seagrave has worked with athletes at every level of the game, from aspiring juniors, to collegiate runners, to veteran NFL players and Olympians. Past and present pupils include: Eddie George, Terrell Davis, Tony Romo and Hershel Walker on the football side, and Donovan Bailey (1998 100-meter world record holder), Pauline Davis (2000 Olympic Gold Medalist, 200-meter), Dwight Phillips (2009 World Champion, long jump) and Angelo Taylor (2000, 2008 Olympic Gold Medalist, 400-meter hurdles) on the track and field side. Seagrave has also served as a consultant for the Atlanta Falcons, Detroit Lions, Jacksonville Jaguars, Nashville Predators, and the Chicago Bulls. In the late 80s, he coached LSU's Women's Track and Field Team to five NCAA national titles. This fall he seeks to launch a high school track and field program at IMG.
Most Important Interview Of Your Life
The IMG experience is a lifestyle change for the athletes when they get on campus.
It's a six-day a week program geared towards preparing for peak performance both physically and mentally at the NFL Combine.
At 6 a.m. it's rise and shine. Breakfast with a nutritionist is 30 minutes later. Each player's diet is personalized based on future goals. Then comes treatment (heat, etc.) and stretching with the training staff. By 7:30 it's time to get the body ready to train using Trigger Point therapy (relieve muscle and joint pain), Power Plate (vibrational technology to repair bone and muscle tissue), and the Rotex device (used to strengthen hips and loosen up athletes). At 8 a.m. it's time to start the active dynamic warm-up. Gone are the days of running goalpost to goalpost, right over left. Seagrave uses therapeutic exercises. Then comes an hour of movement. Monday and Thursday are linear days with Tuesday and Friday being multidirectional. They touch on position specific and general development movements.
"It's a tremendous shock to their system," Seagrave said. "First of all, the active dynamic workout, Manti Te'o comes in and says 'is this going to kill me?' Everyone talks about how this crushes you the first time you do it. But after a week's work, he's on top of it. Justin Hunter the receiver from Tennessee that came out early, he was struggling at first and (next thing you know) he was leading the pack in the regeneration program (swimming pool, things like that). He ran away with everything and showed he's a leader in that regard."
While for a normal man, that's beyond a day's work in the gym. For those aspiring to play on Sundays, it's then time for the guys to hit the field and do football specific drills with Director of Football, Chris Weinke, and his staff. Weinke has the players until 11 a.m., then they break for lunch. Lunch is of course designed by the nutritionist. At that time, each player is encouraged to use the hyperbaric chamber, a system that puts more oxygen into the body.
At 1:30 p.m. folks gravitate to the weight room for strength and power training. Monday and Thursday are upper body days, and Tuesday and Friday are lower body and total body workouts.
"The focus is mostly on power development and not strength," Seagrave said. "Most of the focus is on power, producing a big force in a short time. Most of these guys are strong enough and can lift a house."
At 3 p.m. comes the mental conditioning and nutrition session. Preparing the athletes for the interviews with NFL teams and getting them ready for things like the Wonderlic test.
The work day is not done there. After that it's over to the vision lab for what Seagrave calls "gymnastics for your eyes." In what is essentially fighter pilot training, they touch on peripheral convergence and divergence, working on a player's ability to track things coming at you or going away from you.
At 5 p.m. is video study, or another option is heading back out to the field and getting special help on something an athlete may want to work on like top-end speed. Dinner is at 6 p.m. As one would imagine, most of the players are sleeping by 9 p.m.
"They're pretty tuckered out at that time," Seagrave said. "They approach this like it's a job because it is. We prepare the guys for when we get to the combine, which is not designed to give good performance, because you wake up early, they feed you stuff you're not used to, you're poked and prodded, and on the fourth day they ask you to run the fastest time of your life. From a mental and physical capacity, it's extremely important to know what you're up against. By that time, these guys have been getting up at 6 a.m. for two months. "
"You wake up and go to breakfast at the combine and the only ones down there are guys that trained at IMG Academy because that's what they're used to doing."
Maximizing The Opportunity
While Werner, Reid, Te'o, Eifert and Hunter are all potential first rounders, guys like Wisconsin cornerback Devin Smith are working to prove they're deserving of a draft pick as well.
He's already seeing positive results.
"I think I'm more conditioned than I have been for a long time," Smith said. "Through that first week, I think I got conditioned and the pace of it pretty quickly. After the first week, just getting the steps down I need to as far as my running and getting all those down pat, so now I'm able to work on those for three weeks straight. I think it's helped out a lot and also just watching film with Coach Seagrave helps me understand what I need to do. Then having the cameras there and being able to watch what I actually did immediately, it definitely helps and shows if I'm improving or what I need to do better."
For Smith, he enjoys working out next to guys like Reid and Hunter, or with current NFL players and former NFL players that also get their training in at IMG. Olympic track sprinters are sometimes right alongside Smith and company.
"It definitely helps because a lot of the guys are pretty much projected higher than I am," Smith said. "It helps me compare myself to other athletes around the country."
Seeing the past results from guys like Kuechly have Smith optimistic about his own future. He's constantly talking to Seagrave about what he could be doing to improve his own times.
"I think with some of the technical stuff that he shows us, you don't realize how much time you wasted," Smith said. "Just a small movement can make a difference. He can really show you different spots where you can really shave time and improve your time. On film he can show you different angles of where your body should be and how much you should be extending your leg or how long your foot should be on the ground. It's something I haven't experienced before and I can watch myself, and it's like any other film study, when I'm watching football film I can study myself and it's the exact same concept."
"I definitely have specific goals I want to accomplish but I think overall I want to be better than when I came here."
connect with us & get a guide
Contact Us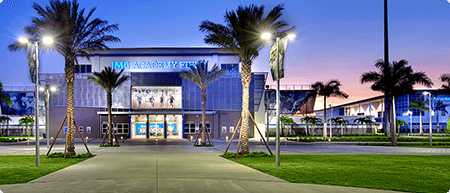 5650 Bollettieri Boulevard
Bradenton, FL 34210
Fill out the form below and we'll be in touch soon!
Request a brochure
We offer downloadable brochures about our boarding school, youth camps, adult programs, team training and pro/collegiate training in multiple languages.
Visit Us
Are you interested in touring the IMG Academy campus? Fill out the form below to submit a tour request and we will be in touch soon to confirm your request.