IMG Academy a QB grad school for Teddy Bridgewater

BRADENTON, FLA. — The IMG Academy's sprawling 500-acre campus has attracted such elite athletes as Kobe Bryant, Serena Williams and Drew Brees. They would come through the gated entrance that is dotted with palm trees and find seclusion, a place to train with no distractions.

On this unseasonably chilly Florida morning, one of IMG's newest clients, Teddy Bridgewater, is sitting inside a nondescript trailer near one of the academy's football fields. The quarterback is wearing a knit cap, sweatpants and a University of Louisville sweatshirt. A backpack and an empty Gatorade bottle sit by his feet.

For the better part of the next four months, the academy will be home to Bridgewater as he prepares for the NFL draft and the career that follows. He moved into a one-bedroom apartment on the campus last weekend, but most of his time is spent on the football fields or in this trailer.

Today's focus is rest and recovery, so Bridgewater is watching film and receiving instruction from 2000 Heisman Trophy winner Chris Weinke, the former Florida State quarterback who is now IMG's director of football. "I dreamed of having a chance to play in the NFL," Bridgewater said during this one-on-one interview. "Now, through Little League football, high school football and college football, the hard work has paid off, and you have a chance. It's just very exciting."

A clip of Bridgewater throwing a football flashes on a television monitor, but the receiver is not in the frame. Weinke asks if the pass is a slant route or a hitch route. Bridgewater knows it's a slant because of the direction his feet are pointed. Weinke nods.As the film rolls, Weinke rewinds and replays throws, sometimes four or five times in a row. The room is quiet, but the clips, shown over and over for emphasis, speak for themselves.

The movements are quite familiar to U of L fans. Teddy's quick dropback. Teddy's elegant footwork. Teddy's precise throws. Rewind, restart.

"The ball gets out of your hand so freaking quick, Teddy," Weinke tells him. "They're going to love you, man."

Teddy smiles and thanks him. When Weinke says "they," he is referring to NFL scouts, coaches and executives. Of course, not all of the teams need to love Teddy. Just one does.

"I can't control what's in the future and what's down the road," Bridgewater says. "But what I can do is prepare myself for when that time comes."

It's just after 10 a.m., and Bridgewater has been awake since 6. For the first time, he can turn his total focus toward football. No more tests to study for or papers to write.

Now it is all meetings and workouts and training. He will consult with nutritionists. He'll prepare for potential questions from NFL executives. He'll refine football skills that rarely seemed in need of refinement.

It's all the latest step in his evolution, and the process has been in motion for years. Bridgewater carefully crafted a route that would lead him to this point. He graduated from high school early so he could enroll at U of L early and earn his degree early and enter the NFL early.

He always knew he was ready, even if he demurred when asked. On Wednesday he told me he never considered returning to the Cardinals for his senior season, a route some started to think was possible as time passed without an announcement.

"I came up with those goals back in high school," he said.

He didn't talk about his NFL future during the season because he didn't want to be a distraction. So he focused on his team, and along the way he cemented himself as one of the greatest players in school history.

This past season, the Cardinals went 12-1 and crushed Miami in a bowl game, and soon after, Teddy finally could be more open about his future, about what comes next.

"To be where I am now is something I always wanted," he said.

Weinke does not plan to reinvent Teddy Bridgewater over the next few months, and that's good, because he doesn't really need to be reinvented.

Weinke wants Bridgewater to use his lower body more effectively when delivering throws. He wants him to disprove the notion that he's not a vocal leader. But mostly he just wants Teddy to be Teddy, and for a quarterback who can do just about anything, that sounds simple enough.

"I just want to prove that I can compete at a high level with consistency," Bridgewater said, "and show that I have no flaws."
connect with us & get a guide
Contact Us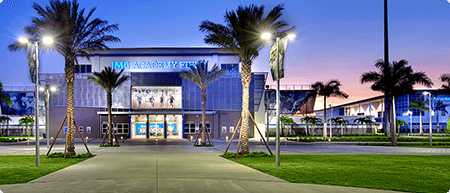 5650 Bollettieri BLVD.
Bradenton, FL 34210
Fill out the form below and we'll be in touch soon!
Request a brochure
We offer downloadable brochures about our boarding school, youth camps, adult programs, team training and pro/collegiate training in multiple languages.
Visit Us
Are you interested in touring the IMG Academy campus? Fill out the form below to submit a tour request and we will be in touch soon to confirm your request.