IMG Academy Spring Commitment Ceremony celebrates 167 athletes for college signings

IMG Academy is known for preparing its athletes for the next level.
So on Thursday, the 2013 IMG Academy Spring Commitment Ceremony at State College of Florida honored roughly 167 athletes who are heading to colleges in the fall to continue their athletic and academic careers.
They came from a variety of sports, and IMG Academy vice president of student affairs and headmaster Rich Odell said 57 percent are going to Division I programs.
"It really recognizes the level of commitment that we make to both academic and athletic excellence matched only by the social developmental component," Odell said. "We believe that kids to be successful that have passion in sport, or any area for that matter, need to really stand on a three-legged stool for life. And that preparation for the success of that stool is to do well academically, athletically and socially."
One of those Division I recruits is Brett Hanewich, who began his prep career at Lakewood Ranch.
Hanewich is signed to play baseball at Stanford, where he will join his older sister, Corey, who plays softball for the Cardinal.
"I didn't want to base anything just off her," Brett Hanewich said. "It was ultimately my decision and my family's decision, too. But I wanted to go there, and the fact that she's going to be there is a bonus."
Hanewich chose Stanford over other strong baseball programs such as the Florida, North Carolina and Ole Miss because of academic tradition.
Hanewich wasn't alone.
Rina Hill, a native of Japan, is heading to LSU to play women's college basketball. Hill said she hopes to lead the program to the Final Four.
"I loved the coaches and the environment," Hill said.
Pablo Aguilar, who patterns his soccer skills after two Barcelona icons in Xavi and Iniesta, is a Virginia signee.
Aguilar has two older brothers that attended UVA, so that was a factor in the attacking midfielder's decision on where to continue his soccer career.
"I know the coach, because I've been there via summer camps before," said Aguilar, who hails from Guatemala. "It's a good soccer school, and it relates good because it's good academically, too."
Photo by: IMG Academy/Kit Carlson
Credit to: Bradenton Herald
connect with us & get a guide
Contact Us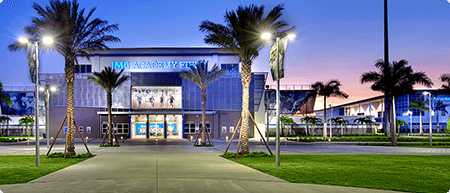 5650 Bollettieri BLVD.
Bradenton, FL 34210
Fill out the form below and we'll be in touch soon!
Request a brochure
We offer downloadable brochures about our boarding school, youth camps, adult programs, team training and pro/collegiate training in multiple languages.
Visit Us
Are you interested in touring the IMG Academy campus? Fill out the form below to submit a tour request and we will be in touch soon to confirm your request.