IMG Academy, SRQ partner to increase airport usage

BRADENTON -- IMG Academy is forging a new partnership with Sarasota-Bradenton International Airport to bring more of its clients through the local airport.
IMG books 10,000 flights a year, and 60 percent of those flights are international, said Frederick Piccolo, president and chief executive officer of SRQ airport. But less than 20 percent of all IMG Academy business is flying to SRQ, said Chris Ciaccio, vice president of marketing and outreach at IMG Performance. And the academy wants to change that.
"Our commitment is to use SRQ as much as we possibly can," Ciaccio said.
The Sarasota-Manatee Airport Authority unanimously approved the agreement at its meeting Monday afternoon to forge a marketing partnership with IMG and for the academy to commit to use SRQ airport as much as it possibly can. Authority member Carlos Beruff was absent.
"Overwhelmingly, our customer satisfaction was the highest when they fly into Sarasota," Ciaccio said. "It makes sense when they're 15 minutes away instead of 60 minutes down the street."
The academy attracts more than 200,000 athletes, coaches and spectators annually, according to IMG. During the summer, the academy's slowest time, 4,000 people flew in to the academy, Ciaccio said. That's in addition to the 750 IMG Academy staff and 3,000 IMG Worldwide employees in IMG's 60-plus
international offices who use the academy for work to entertain clients.
"They often use our backyard as their playground," Ciaccio said.
The demographics of IMG Academy clients and families are beneficial for more revenue at the airport. Annual tuition at IMG Academy, 5500 34th St. W, starts at $72,000 and specialized training can put that figure well above $100,000, said Dr. Jack Rynerson, commissioner for the Sarasota-Manatee Airport Authority and a member of the Tourist Development Council in Manatee.
Some of those families or clients might fly on a private jet landing at SRQ while others would likely book first-class seats, Piccolo said.
"Most are flying at the front of the plane," Piccolo said. "The good thing for us is that when they're flying at the front of the plane, that's where airlines make the most revenue."
The pact is part of the airport's Do You SRQ? campaign launched in 2012 to get local businesses and organizations to commit using SRQ as its primary airport. More than 200 companies signed onto the program, Piccolo said.
"I think it's been a very good program and at least people recognizing who we are," Piccolo said.
A radio campaign for Do You SRQ? is being planned with JetBlue that will include ticket giveaways, Piccolo said.
Part of the new agreement includes IMG promoting the airport with its worldwide reach, a co-branded video, promoting IMG on U.S. 41 billboards, promoting SRQ to incoming IMG students and in the IMG alumni magazine, installing a flight tracker display at IMG and potentially installing an SRQ airport kiosk at IMG Academy.
Photo by: Bradenton Herald
Credit to: Bradenton Herald
connect with us & get a guide
Contact Us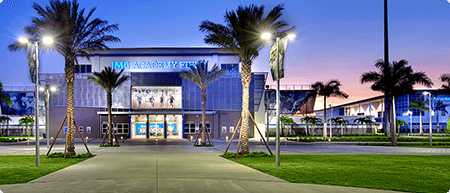 5650 Bollettieri BLVD.
Bradenton, FL 34210
Fill out the form below and we'll be in touch soon!
Request a brochure
We offer downloadable brochures about our boarding school, youth camps, adult programs, team training and pro/collegiate training in multiple languages.
Visit Us
Are you interested in touring the IMG Academy campus? Fill out the form below to submit a tour request and we will be in touch soon to confirm your request.