IMG Academy students have special relationship with Special Olympic athletes

IMG has been hosting the tennis and basketball practices for the Manatee County Special Olympics for more than three years, said Ash Ghaffari, director of achievement at the sports training center.
"Our students have been volunteering with the program for a year when they practiced basketball across the street (at Bayshore High School)," Ghaffari said. "Then we thought why not open up our facilities for their practice time."
The student athletes training at the facilities located on 34th Street West, south of 53rd Avenue, work with the children and adults with intellectual disabilities as part of their schooling.
As part of the academy's program to develop the whole athlete, the students are encouraged to volunteer for one of several community organizations, said IMG spokesman John Esfeller.
"It's like a three-legged stool," Esfeller said. "We want the student to excel in academics, athletics and socially."
Samy Ramadane, a member of the student council and Student Athlete of the Month, said he thinks volunteering with the Special Olympics program benefits him more than the Olympians.
"This is a great learning experience," said Ramadane, who is in his second year of the soccer program at IMG. "We come to IMG and take things for granted, but (working with the Special Olympians) puts things in perspective."
For Shina Berzins, participating in the Special Olympics has been very satisfying as she gives the thumbs-up sign when asked how she likes playing tennis.
"I like seeing all my friends," said Berzins, who also enjoys the bowling program.
Close friendships are formed once the students start working with the Olympians, said 16-year-old Jacqueline Simeone, who is in her fourth year of the soccer program.
"We're not thinking about going to their games just to get volunteering credit," said Simeone, whose birthday is Thursday, "but we really want to know how they did."
Bollettieri, who started the tennis school more than 30 years ago, told the athletes that they all were special.
"The only time you can't do something is when you don't try," he said.
The coach of 10 No. 1 world tennis champions encouraged them to do their best.
"Everybody will have ups and down," Bollettieri said, "You judge a champion when everything went wrong but he got up to try again."
The use of the tennis and basketball courts for practice, along with the help of the IMG student-athletes, has been a boost for the program, said Pam Fazio, the assistant county director for Special Olympics Manatee.
"It's the best thing for both groups," said Fazio, who has been with the organization for 18 years with her daughter, Melissa, who participates in several sports. "It's a perfect match."
The Special Olympics program runs on donations and is all volunteers, she said, and they usually have to pay for their training facilities.
connect with us & get a guide
Contact Us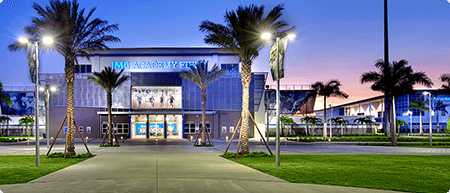 5650 Bollettieri Boulevard
Bradenton, FL 34210
Fill out the form below and we'll be in touch soon!
Request a brochure
We offer downloadable brochures about our boarding school, youth camps, adult programs, team training and pro/collegiate training in multiple languages.
Visit Us
Are you interested in touring the IMG Academy campus? Fill out the form below to submit a tour request and we will be in touch soon to confirm your request.