IMG Academy-trained Shane Larkin, Nate Wolters, Mike Muscala, Romero Osby earn 2013 NBA Draft selections
Bradenton, Fla. (June 28, 2013) – Following the conclusion of the NCAA basketball regular season, NBA hopefuls arrived at IMG Academy to participate in the annual NBA Combine/Draft Training Program. Participants endured weeks of the world's most comprehensive on and off-court training program to ready for the NBA Combine and ultimately increase their Draft status.
IMG Academy-trained athletes selected in the 2013 NBA Draft include: Miami PG Shane Larkin (18th overall by Atlanta Hawks, traded to Dallas Mavericks); North Carolina SG Reggie Bullock (25th overall, LA Clippers); South Dakota State PG Nate Wolters (38th overall by Washington Wizards, traded to Philadelphia 76ers and then to Milwaukee Bucks); and Oklahoma PF Romero Osby (51st overall, Orlando Magic).
"Our trainees saw the results of months of hard work pay off on Thursday when their names were called in this year's NBA Draft," remarked Kenny Natt, Director of Basketball, IMG Academy. "Year after year, we are impressed with both the talent and the passion of the pro-bound athletes we attract. We wish these young men the best of luck in their NBA careers."
Natt served as the head coach for the India National team and the Basketball Federation of India prior to arriving at IMG Academy last summer. He spent 13 years as an NBA coach for the Utah Jazz, Cleveland Cavaliers and Sacramento Kings, including as the head coach of the Kings during the 2008-09 NBA season. As an assistant coach under Jerry Sloan in the mid-90s, Natt was part of the Jazz's NBA Finals run with legends Karl Malone and John Stockton. He then joined the Cavaliers as an assistant coach where he was involved in the development of a young LeBron James. Natt was drafted by the Indiana Pacers in 1980 and had a nine-year professional playing career within the NBA, CBA and WBL.
Regarding first-round selection Shane Larkin, IMG Academy's Head Skills Trainer – NBA Development, Dan Barto remarked, "Shane is one of the most athletic and efficient point guards to ever enter the Draft. His basketball IQ and work ethic will have him in contention for Rookie of the Year conversations."
Barto is one of the game's top one-on-one instructors; he and his staff have worked with more than 100 current or former NBA players, including Joakim Noah, Jrue Holiday, Vince Carter, Al Harrington, Luol Deng, Alonzo Gee, Aaron Jackson, Glen Davis, Kevin Martin, and 2012 NBA Draft first-round picks, Kendall Marshall, Moe Harkless and Fab Melo.
IMG Academy's NBA Combine/Pre-Draft Training Program presents athletes with education and training in position-specific skills, speed and movement, physical and mental conditioning, sports nutrition and hydration, vision training, communications, and more.
connect with us & get a guide
Contact Us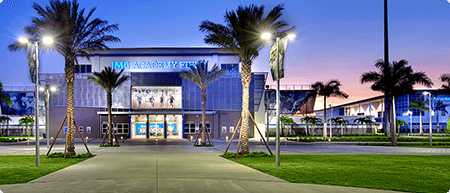 5650 Bollettieri BLVD.
Bradenton, FL 34210
Fill out the form below and we'll be in touch soon!
Request a brochure
We offer downloadable brochures about our boarding school, youth camps, adult programs, team training and pro/collegiate training in multiple languages.
Visit Us
Are you interested in touring the IMG Academy campus? Fill out the form below to submit a tour request and we will be in touch soon to confirm your request.