IMG Academy trounces Palm Beach Lakes 38-0 at inaugural Kickoff Classic

A two-hour weather delay did not slow down the IMG Academy Ascenders, who were fired up for their first action as a team on Saturday night at the brand-new IMG Academy Stadium. In their first ever Kickoff Classic, the Ascenders faced off against the Palm Beach Lakes Rams. IMG Academy overwhelmed Palm Beach with a powerful rushing attack that racked up 256 yards, and a suffocating defense that allowed the Ascenders to run away with a 38-0 victory.
"We had high expectations coming in, but it's the first time for this group of young men came together to play a football game, anytime you win it's always nice and I'm pleased, but I think there's a lot to learn from tonight," remarked IMG Academy Head Coach Chris Weinke. "Hats off to our offensive line, obviously Bo [Scarbrough] did an unbelievable job – very rarely did you ever see just one person take him down."
Weinke raved about his defense, adding: "Our defense played great tonight. Anytime you don't allow the other team to score is big for us, and I think we rallied around the defense tonight, so we're excited about what they brought to the table."
The Rams were bowled over by the Ascenders rushing attack, led by Tuscaloosa, Ala. native Bo Scarbrough, an Alabama Crimson Tide commit who carried the ball 11 times for 235 yards (21.4 ypc) and three touchdowns. Scarbrough's incredible night was highlighted when he took an off-tackle rush to the left for an 71-yard touchdown in the second quarter.
On Scarbrough's big night, Weinke added, "[Bo] can do it all. He's big and strong enough to run over people, but he showed his elusiveness, and obviously his speed, once he broke out in the field."
The night also marked the long-awaited debut for Ottawa, Canada's Michael O'Connor, who verbally committed to Penn State this summer. The wet conditions created challenges for the passing game early, but after going 2-of-9 passing in the first half, O'Connor got in rhythm and finished strong with 8-of-10 passing in the second half. O'Connor went 10-for-19 on the night with two touchdowns, highlighted by an 85-yard bomb to WR Clark Thomas.
"It felt great to finally play a game after countless months of hard work. We came out here, played as a team in front of a great crowd in a brand new stadium – it was just a great night," said Michael O'Connor. "When I connected on that long touchdown, the safeties were playing up tight the whole game and playing in the box, so we knew we could take some shots over the top and Clark made a great play on the ball."
After an impressive debut, the road gets tougher as the Ascenders face Olympia High School in Orlando, Fla. on Friday, August 30 at 7:30 p.m.
For scheduling and ticket information, click HERE. 
Photos from the Kickoff Classic: 
Photo by: IMG Academy/Daniel Perales
connect with us & get a guide
Contact Us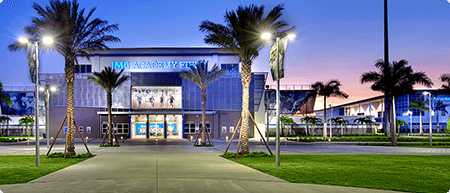 5650 Bollettieri Boulevard
Bradenton, FL 34210
Fill out the form below and we'll be in touch soon!
Request a brochure
We offer downloadable brochures about our boarding school, youth camps, adult programs, team training and pro/collegiate training in multiple languages.
Visit Us
Are you interested in touring the IMG Academy campus? Fill out the form below to submit a tour request and we will be in touch soon to confirm your request.