IMG Academy Using Analytics to Fuel Player Development
After going 11-1 and possessing the highest scoring differential in the nation in its inaugural year as a team, the IMG Academy lacrosse program is quickly establishing itself as a developmental leader. With its elite academics, world-class training facility, and dedicated coaching resources, this rapidly growing program located in Bradenton, Fla., has the opportunity to revolutionize the game of lacrosse.
As the country's only boarding prep school with a lacrosse-specific residency program, the IMG Academy lacrosse program, led by director Bill Shatz, is using its cutting-edge curriculum, unique style of play, and relentless pursuit of innovative insights and excellence to prepare its student-athletes for the highly competitive college level.
Not only does IMG Academy provide academic and athletic development, but it also emphasizes the personal development of its student-athletes. Among the many areas that the program seeks to develop include leadership, physical and mental conditioning, nutrition, vision, and life skills. With methods as unique as vision training performed over the course of the year, the program is changing the way student-athletes are being developed.
Further differentiating the IMG lacrosse program is its creative use and application of statistics and analytics to measure student-athlete performance, both in-game and off-the-field. Shatz and his staff are continuously and rigorously using data analytics to support the mission of the program and improve the methodologies used to develop lacrosse players. Much of the evaluation system used by the program to assess on-the-field performance is based on the linear weight formulas developed by Dr. Larry Feldman of laxbytes.com, and other sports analytics researchers, statisticians, and analysts.
In its first season, IMG Academy had an average of 9% more possessions per game than opponents, an average time of possession of 21 minutes per game, which is four minutes higher than its opponents, and scored on 44% of its possessions, compared to an opponent average of 12%. The IMG Academy team also showed an estimated increase in production of 7% per game, with some players almost tripling their on-the-field value by the end of the season. Statistics such as these support the IMG Academy lacrosse program's objective of developing more effective and efficient lacrosse athletes for the collegiate level.
Another aspect of the program's analytics initiative is the examination of factors that might influence on-the-field performance. By statistically exploring the correlative strength of links between a players' output in a game, as measured by workload, distance covered, maximum velocity and other factors, and his statistical performance in games, IMG's coaching staff has gained insights into players' level of conditioning and preparation, and are able to make real-time assessments about each player's performance - making adjustments to their training regimen as necessary. In fact, the technology IMG Academy employs not only gives the staff the ability to track these factors, but also allows them to track the position of its players in a game at any given point in time, using the compiled information to evaluate offensive formations, spacing, efficiency, and player tendencies.
Over time, it is the expectation of the program that the coaching staff will not only be able to measure and demonstrate the degree to which individual players have developed, but ultimately be able to predict how players will perform in the future by altering, modifying, and customizing each player's training intensity and emphases.
The style of play that Shatz and offensive coordinator Patrick Haley are using is based on teaching and integrating indoor (box) lacrosse with the field version of the sport. Called "DoubleCrosse," the style is becoming recognized more and more for the chaos it creates among opposing defenses. Because the entire set of defensive slide and zone packages are largely ineffective against the innovative offense, scoring output and efficiency is very high as compared to the more traditional style of play.
According to Shatz, "The supporting evidence is now irrefutable – the best lacrosse players in the world have learned both the indoor (box) and field versions of the sport. And they are open to applying knowledge and skills learned in both versions, as well as incorporating the findings from data analytics, to elevate their on-field performance." He continued, "This is the environment we are creating at IMG Academy on a year-round basis, as we seek to develop what we believe will become the lacrosse player of the future."
The team's defense at IMG Academy, led by defensive coordinator Jason Basso, focuses on making its student-athletes well-rounded players. "We want our defensemen to be comfortable playing all areas of the field," coach Basso stated. "We don't worry about individual matchups. We believe that the read-and-react player-centric principles used in our offensive system are as equally powerful and effective for our defensive players. Our guys work on communicating and reacting properly as the means of competing against the innovative DoubleCrosse offense. By continuously playing against our offense in practice, we have found that our defensive players' game-level IQ grows exponentially, making them even more effective against the traditional, more static offensive sets deployed by most teams."
DoubleCrosse requires the implementation of concepts and principles as an entire system – offense, defense, and transition - as opposed to the piecemeal approach that many coaches might tend to prefer. And, although the style of play is highly unique at the high school level because of the intensive knowledge requirements, it appears to be consistent with the trends in the college game, as teams like Bill Tierney's Denver Pioneers and Michael Corrado's Villanova Wildcats move towards creative off-ball motion offenses.
The well-documented and rapidly-increasing trend of Canadians playing in the NCAA also highlights the growing importance of motion offense/box lacrosse principles. This past season alone, there were approximately 250 student-athletes from Canada playing NCAA men's lacrosse, with 123 of these in Division I (special thanks to IL's Casey Vock and JP Donville for the research).
While IMG Academy is incorporating these concepts in innovative ways in the U.S., the Hill Academy located in Ontario, Canada is applying similar concepts to their training. As a result, the Hill has established a strong reputation for placing its players among top Division I, II, and III lacrosse programs. According to the latest data, the Hill Academy has placed 28 student-athletes from their program in DI (roughly 1.16% of all DI men's lacrosse players) who have scored almost 200 goals (2% of all goals scored) in 2013.
Meanwhile, the IMG Academy lacrosse program is poised to follow the track record of success of its other college preparatory sport offerings. Currently, IMG annually sends 60% of its graduates to DI programs (the national high school average is less than 2%). The lacrosse staff remains confident that the school's 'lacrosse player of the future' orientation will continue to help them attract top players from across the world seeking world-class academic and sport-specific training that will lead them to a successful collegiate experience.
Credit to: Inside Lacrosse
connect with us & get a guide
Contact Us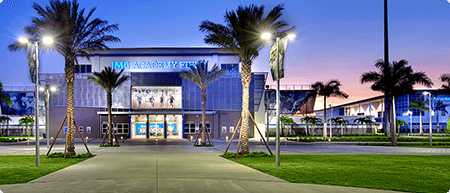 5650 Bollettieri Boulevard
Bradenton, FL 34210
Fill out the form below and we'll be in touch soon!
Request a brochure
We offer downloadable brochures about our boarding school, youth camps, adult programs, team training and pro/collegiate training in multiple languages.
Visit Us
Are you interested in touring the IMG Academy campus? Fill out the form below to submit a tour request and we will be in touch soon to confirm your request.