IMG Academy Women's National Team shines at Sweet Sixteen Invitational

On the heels of its impressive start this season, the IMG Academy Women's National Team headed west to the eighth annual La Jolla Day School Sweet Sixteen Invitational, held in La Jolla, Calif., Nov. 28-Dec. 1. With college coaches from many of the nation's top programs in attendance, the event featured 16 of the top-ranked girls varsity teams from around the country. The Women's National Team did not disappoint, going 3-1 against teams from Arizona and southern California.
Rina Hill, a native of Japan, continues to impress and was named to the Invitational's All-Tournament Team. Hill earned the dinstinction by leading the team against Mater Dei (Chula Vista, Calif.) with 15 points and seven steals, and leading in scoring a second time against Serra High (San Diego, Calif.) with 15 points. Other notable performances included Audrey Ann Caron-Goudreau who notched 15 points, eight rebounds and five blocks in a loss to Dobson High School (Mesa, Ariz.); and Kavita "Covey" Akula, who recorded 12 points, including 3-for-4 shooting from three-point range, and four steals in a win versus The Bishop's School (La Jolla, Calif.).
Led by head coach Shell Dailey, the Women's National Team improved to 10-5 on the season, going 4-2 against junior colleges and 6-3 against high school competition.
Scores from the Sweet Sixteen Invitational:
vs. Mater Dei High School (W), 55-39
vs. Dobson High School (L), 46-62
vs. The Bishop's School (W), 57-44
vs. Serra High School (W), 55-33
Hill and Caron-Goudreau are new additions to IMG Academy. Hill came to IMG Academy from Nagoya, Japan, where she has played basketball for the past nine years. She is a member of the Japanese U18 Women's National Team that placed 2nd in the Asian Championships and 5th in the World Championships. Hill's younger sister Ellie is also a member of the IMG Academy basketball program. Audrey-Ann Caron-Goudreau and her twin sister Khaléann are from Quebec, Canada, where both were members of the SSF Blizzard 2012 Juvenile AAA state champion team, and the 2012 Canadian U17 Women's National Team.
Individually, Audrey-Ann has earned a number of MVP awards over the years. Khaléann has also distinguished herself on the hardwood, having earned a state semi-final MVP in 2010 and state final MVP in 2012, as well as in the classroom as a member of the All-Academic team.
Kavita Akula joined IMG Academy through the IMG Reliance Student-Athlete Program during the 2011-2012 academic year. The program offered 29 athletes in tennis, soccer and basketball the opportunity to train under the guidance of world-class coaches at IMG Academy's top-notch facilities. Prior to attending IMG Academy, these students played on youth teams in India and were selected by IMG Academy basketball coaches during a series of trials. Over the summer, Akula had the honor of representing India in the U16 FIBA Asia Championship played in China.
connect with us & get a guide
Contact Us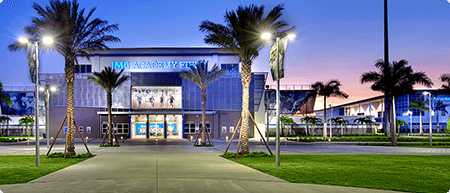 5650 Bollettieri BLVD.
Bradenton, FL 34210
Fill out the form below and we'll be in touch soon!
Request a brochure
We offer downloadable brochures about our boarding school, youth camps, adult programs, team training and pro/collegiate training in multiple languages.
Visit Us
Are you interested in touring the IMG Academy campus? Fill out the form below to submit a tour request and we will be in touch soon to confirm your request.