IMG Academy's Andrew DiLacqua leads FTB Worth to USSSA World Series title; named tournament MVP

IMG Academy's Andrew DiLacqua led his FTB (Florida Travel Ball) Worth squad to the 2013 USSSA World Series Championship on Sunday, July 28. It was true test of stamina for the victors, as the game did not begin until 1:00 a.m. after a rain delay. However, by 3:00 a.m., FTB Worth had crushed the Florida Pokers Carolina Underclass by a 7-0 margin.
DiLacqua remarked, "I was seeing the ball well, but I wasn't trying to do too much because our pitching staff was doing really good and the rest of the team was hitting well, so I was just trying to score some runners and do the little things." 
DiLacqua was named tournament MVP after going 8-of-15 at the plate (.533) with four RBI. During the semifinal and final, DiLacqua got on base during seven consecutive at-bats with four hits and three walks. In 20 games this summer, DiLacqua hit .463 with six doubles, two triples and 18 RBI, giving him a .545 on base percentage and .648 in slugging. Notably, DiLacqua led his team in every offensive category, though he played 11 fewer games.
"At the beginning of the season, I was doing alright, but as the season progressed I was doing a lot better and I settled down and got into more of a groove," said DiLacqua, describing his improvement over the summer. "I shortened my swing, and it's working a lot better - I'm getting more power, and trying to see if next year I can get some more home runs for IMG and step up and lead the team. 
The USSSA Championship marks DiLacqua's third tournament title this year. During the spring, he helped lead the IMG Academy Baseball program to a strong finish on the season, winning the Cleats Classic Invitational in Mesa, Ariz. in March, and the inaugural IMG National Classic in April. Prior to season, DiLacqua verbally committed to the Arizona State Sun Devils, and was a 2013 Perfect Game All-Underclass High Honorable Mention. 
connect with us & get a guide
Contact Us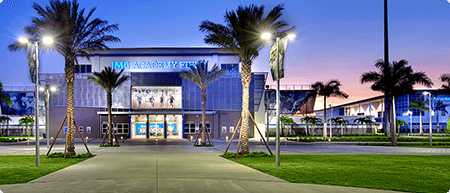 5650 Bollettieri BLVD.
Bradenton, FL 34210
Fill out the form below and we'll be in touch soon!
Request a brochure
We offer downloadable brochures about our boarding school, youth camps, adult programs, team training and pro/collegiate training in multiple languages.
Visit Us
Are you interested in touring the IMG Academy campus? Fill out the form below to submit a tour request and we will be in touch soon to confirm your request.