IMG Academy's Blair Gavin is making the most out of workout with the Seattle Sounders
Blair Gavin, an IMG Academy alumnus (class of 2007) who recently finished the USL Premier Development League (PDL) season with IMG Academy, is in Seattle for an eight day evaluation with the MLS' Sounders. The workout presents a new opportunity for the former SuperDraft pick out of the University of Akron.
"This is one of the franchises that everyone looks at and models themselves after," said of the opportunity with Seattle. "They have an extremely good fanbase, they have a lot of good players, they treat their players with the utmost respect - it's just a good environment."
The workout presents Gavin with an opportunity to return to the MLS. He was initially drafted by Chivas USA in 2010 as the 10th overall pick. He arrived at Chivas after three years at Akron, where he scored seven career goals and added six assists, and recorded the game-winning penalty kick in a shootout against North Carolina to advance Akron to the 2009 NCAA National Championship game.
For Gavin, the IMG Academy Soccer program has helped him prepare for the highest levels of the game in North America through its prep school full-time program and PDL program.
"The PDL experience helped tremendously; the everyday training improved my fitness level," Gavin said. "It's difficult to play in the heat [in Florida], and it demands a lot of your body, so I wanted to test my body and see if I was capable playing through the PDL season, which I did, and to get back to IMG which is where my heart is. Scott Dean, Scott Bowers and all those guys helped me a lot."
Gavin has spent time with the IMG Academy PDL program twice, in 2007 and again this year. However, the Scottsdale, Ariz. native still remembers his time at IMG Academy as a student-athlete fondly, and credits his experience at the world-class institution for his steady improvement over the years.
"It teaches you to be a professional from a young age and it gives you all the things you need to become better," Gavin explained. "The only way you don't get better at IMG Academy is if you don't put in the work. They give you the platform to be whatever you want to be, from the training to the coaches and everything else. It's up to you, get all the knowledge that you can soak up and apply it to your game. IMG is a special place."
It's no wonder that Gavin is enjoying his time in Seattle so much, because the Sounders' training facilities sound remarkably similar to those he had access to at IMG Academy.
"I'm like a kid in a candy shop here," Gavin commented about Seattle's facilities. "It's a very professional atmosphere here, and it's a one-stop shop from training, to the gym, bringing everything to you in the sense of knowledge and understanding of the plays. The players here are very professional and I'm just having a lot of fun."
If Gavin catches on with the Sounders, he would join fellow IMG Academy alumnus, Eddie Johnson, on the roster. Johnson led the Sounders in goals scored during the 2012 MLS season, setting the franchise single season record, netting 14 total and finishing sixth in the league's Golden Boot race. Of the 14 total goals scored by Johnson, nine came from headers, which led all players in MLS.
Photo by: Zachary Dash
connect with us & get a guide
Contact Us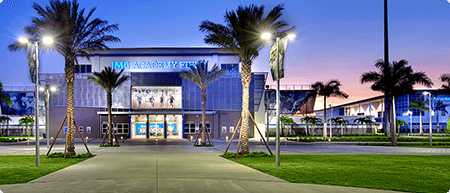 5650 Bollettieri Boulevard
Bradenton, FL 34210
Fill out the form below and we'll be in touch soon!
Request a brochure
We offer downloadable brochures about our boarding school, youth camps, adult programs, team training and pro/collegiate training in multiple languages.
Visit Us
Are you interested in touring the IMG Academy campus? Fill out the form below to submit a tour request and we will be in touch soon to confirm your request.