IMG Academy's Brett Gravatt earns opportunity to train with MLS' New England Revolution

IMG Academy's Brett Gravatt, a native of Dunn Loring, Va., signed with the NCAA No. 7 ranked Akron Zip's men's soccer program earlier this year, and now, the standout right-back earned a chance to train with the MLS' New England Revolution after being invited for an evaluation next week.
"It's just a learning experience and I'll get a feel for the highest level, MLS, before heading to Akron," said Gravatt of the experience.
During his time with the IMG Academy soccer program, Gravatt has earned a reputation for being a hard worker and highly coachable, as evidenced by his willingness to try switching positions. A decision, he says, is one of the best he ever made.
Though Gravatt has a chance to train with the pros for several days, he is ready to join the Zips next season.
"It's one of the best programs in the NCAA, they play the best soccer," Gravatt remarked about choosing Akron. "I know we'll be competing for a national title, and the MAC conference title - it's really exciting - and it's such a great atmosphere with their fans."
Gravatt is also appreciative of the skills he has acquired through his time at IMG Academy.
"I feel like the coaches here made me a more professional player; skill-wise," Gravatt explained. "I know now it's not all individual, I know I have to dribble, I have to think more and that the game is more mental than physical. The speed you play at is a big part of the game, and I definitely learned all these key things that are going to help me in the future."
For the IMG Academy soccer program, Gravatt's success shows the richness of the opportunities presented to the soccer program's student-athletes.
"It enhances our full-time players' opportunities not only for college, but pro opportunities, whether it's immediate or down the road," said Scott Dean, Director of Soccer, IMG Academy. "For a guy like Brett, with his capacity of wanting to develop into the best player that he could, he took our advice, changed positions, from a midfielder to a defender, and because of his work ethic and being open-minded and being coachable, he's going on to a great college program and now has a chance with the Revolution. He's just piling on the accolades now." 
Gravatt was a member of the IMG Academy U18 team during the 2012-13 academic year, and during the summer, is participating as a member of IMG Academy's Premier Development League squad, competing against top college-level and amateur players. 
Photo by: IMG Academy
connect with us & get a guide
Contact Us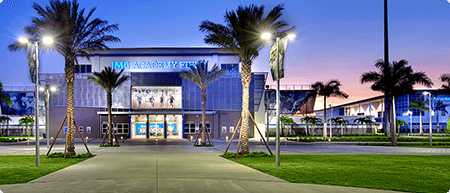 5650 Bollettieri Boulevard
Bradenton, FL 34210
Fill out the form below and we'll be in touch soon!
Request a brochure
We offer downloadable brochures about our boarding school, youth camps, adult programs, team training and pro/collegiate training in multiple languages.
Visit Us
Are you interested in touring the IMG Academy campus? Fill out the form below to submit a tour request and we will be in touch soon to confirm your request.