IMG Academy's David Hollar earns recognition for his writing skills

David Hollar, an IMG Academy senior and member of the varsity basketball team, has earned recognition for his considerable writing skills. Last fall, the 12th grade Honors American Literature class taught by Mrs. Gareis was asked to keep a writing portfolio. Earlier this spring, the students were then asked to choose a sample from their portfolio to submit to Teen Ink Magazine. The Roslyn Heights, N.Y. native's submission stood out, and was prominently featured in the magazine recently. 

David's story, titled Tick-Tock, recounts the tale of a high school student struggling to find their voice and express themselves, but overcoming that challenge positively through sports and community service. 
Included below is the full-text of David's entry. 
Tick-Tock
by David Hollar
Roslyn Heights, N.Y.
Making the Most of It.

Tick. Tick. Tick. The sound of the non-stop ticking from the clock above the chalkboard is deafening. School is done for the day, but not for me. I'm an enthusiastic student locked in a staring contest with my favorite teacher. My teacher's eyes squint. Mine are blank. My situation is becoming more desperate with each tick of the clock. I know what I want to say, but I have trouble saying it. When emotions and functions mix, my anxiety soars. Finally, the impasse ends. My teacher puts a caring hand on my shoulder and extends the deadline, as if having additional days might help me turn in a better essay.

I have had trouble collecting my thoughts and formulating sentences my entire life. Absence of language is a term that got my attention while I was researching my disability. I began thinking, why do we need words, anyway? Artists and composers do not use words to express their ideas or their passions. I am not Picasso and I am not Mozart; these are great masters and I do not compare, but I do have passion. In fact, I have two: playing basketball and helping those who are less fortunate. Although neither of my interests needs words in order for me to express my dedication and commitment, I often imagine how I might bring these two pursuits together in a way that could make a meaningful difference.

Fortunately, I found an outlet for my expression shortly after I arrived at IMG Academy. One of my most gratifying opportunities at IMG was to sign up as a volunteer at the Paralympics.

On our scheduled day, some members of the basketball division travelled together. Along the way, I teased my buddies that my team would dominate. My preconceived notion of the event came to a screeching halt, however, as soon as I entered the stadium. There would be no teams slicing down the court; most of the participating athletes were severely disabled, but it did not matter. 

I interacted with the Paralympic athletes assigned to my group and I quickly realized that having the courage and the strength to overcome a disability is a powerful discipline. As the day progressed, I found ways to use my skills as an athlete to help others have the most rewarding experience possible.

I can't help being learning disabled, but I can choose the kind of life I wish to live. I can be respectful of others, responsible for my actions and resilient in the face of adversity.

One day, I hope to use my education, as well as my sport, to make a significant contribution to individuals, to the community and, possibly, to the world. I am determined, more than ever, to turn my existence into a meaningful life. From the challenges that I have faced, I am grateful for realizing that making social contributions that will lead to positive and necessary change is not only my choice, but my obligation.
connect with us & get a guide
Contact Us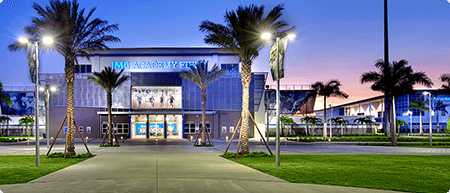 5650 Bollettieri BLVD.
Bradenton, FL 34210
Fill out the form below and we'll be in touch soon!
Request a brochure
We offer downloadable brochures about our boarding school, youth camps, adult programs, team training and pro/collegiate training in multiple languages.
Visit Us
Are you interested in touring the IMG Academy campus? Fill out the form below to submit a tour request and we will be in touch soon to confirm your request.