IMG Academy's defense evolves into something special

BRADENTON -- They aren't heralded like their offensive counterparts, yet there is something special about IMG Academy's defense this football season.
In their inaugural campaign, the Ascenders defense has produced consistent results to allow a perfect 7-0 start.
"We're blending a bunch of different characteristics that came together," said defensive coordinator Joe Sturdivant about the players on the defense that hail from different corners of the world. "These guys bring a great attitude. They all want to learn and they all came with a chip on their shoulder, because they came here to get recruited. No one on our defense had a scholarship offer before they came here. So what has happened is we got them fired up, put a chip on their shoulder saying, 'You have to go out and earn.' … That's been the key."
Guys like running back Bo Scarbrough and quarterback Michael O'Connor are often talked about when it comes to IMG due to their college commitments to Alabama and Penn State, respectively.
But the immense talent at the Ascenders disposal is also apparent each Friday night on the defensive side, and it starts with the line play led by nose tackle Quentin Hilbert.
The 6-foot-3, 335-pounder is a leader on a line that has stuffed the run many weeks, allowing more than 100 rushing yards to a team just twice this fall.
"It's a formation adjust defense," said Hilbert, whose teammate on the defensive line is leading sacker Kyle Forde with 16 ½ sacks. "The D-line is the first line of defense in any defense. So me personally, I take up two blocks so my linebacker can take either zero or one. The D-ends are perfect at pass rush, and we like to move a lot to get people in the best positions possible."
While the Newark, N.J., native has aided the strong play in the trenches with 2 ½ sacks and 25 tackles, the defense works in tandem from a 4-3 scheme that has Sturdivant calling it more like a 4-2-5 with Andrew Smith's transition from safety to outside linebacker in the Ascenders debut season.
Smith, a 5-foot-6, 196-pound senior, put weight on during the offseason to prepare for a position switch to what he was accustomed to in his native Toronto.
"It's hard switching any position at first, but the trust from the coaches to put me in a position to be successful, and by doing that, outside linebacker is probably a good position for me to play," said Smith, whose 65 tackles are second on the team behind teammate Shane Dixon's 74. "Everyone is so close on the team, and everyone knows each other's jobs."
Smith's role is the second line of defense for IMG should the opposition get past the Ascenders stout front players.
"The thing about our linebackers is they are like crazy triplets," Hilbert said. "Drew is the oldest brother out of the three linebackers. All of them are crazy, but he has the level head out of the three. He knows exactly what he's doing."
But guarding against the run isn't the only thing that IMG's defense excels at. If teams decide to air it out, the Ascenders have cornerbacks capable of doing some major damage.
Including the kickoff classic shutout over Palm Beach Lakes, the Ascenders have tallied 23 pass breakups, five interceptions, seven fumble recoveries and 42 ½ sacks.
"We pretty much rely on our D-line, because they're pretty good," said cornerback Jamorien Hill, who has college offers from schools such as Baylor and Ole Miss. "If they do get past them, everyone is just flying to the ball. We try to practice that a lot, just going to the ball. And making good pursuits from all sides of the field."
In particular, the 11.9 points allowed average in regular season contests has been lowered in the last three games for IMG. The Ascenders were gouged for a season-high 363 total yards of offense and allowed more than 20 points for the second consecutive time a few weeks ago against Ocala Trinity Catholic.
Since then, IMG's allowed five, seven and three points in the three subsequent victories.
"We're a bend, not break defense," Hilbert said. "So we'll let somebody come and think they are winning, with the bubble screens and the passes. They can come all the way down field, and once they think they have us, we are going to snap back."
It's been an unbeaten start to the season for the Ascenders, and while the offense generates a lot of buzz, it's the defense that has held tight and kept things moving forward in an unblemished fashion in their inaugural season.
connect with us & get a guide
Contact Us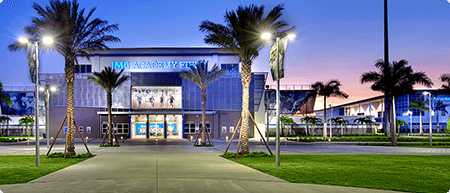 5650 Bollettieri Boulevard
Bradenton, FL 34210
Fill out the form below and we'll be in touch soon!
Request a brochure
We offer downloadable brochures about our boarding school, youth camps, adult programs, team training and pro/collegiate training in multiple languages.
Visit Us
Are you interested in touring the IMG Academy campus? Fill out the form below to submit a tour request and we will be in touch soon to confirm your request.