IMG Academy's Dwayne Bacon draws rave reviews at Battle of the Rankings

Over the weekend at Source Hoops' Battle of the Rankings in Coral Springs, Fla., the IMG Academy Basketball program's Dwayne Bacon turned in a stellar performance, drawing rave reviews on his overall improvement since enrolling at IMG Academy. 
From The Recruit Scoop's (Rivals.com) Alex Kline: 
2015 IMG Academy (FL) guard Dwayne Bacon - When Bacon opted to transfer to IMG for his junior year, it was with the intent of improving his game. Bacon has done that, but is also learning more about improving things outside of his skill set. At 6-foot-6 he wants to play the guard position and is being recruited at that, but first he must become an all-around player. His stamina, passing, consistency, outside shot and other areas have improved noticeably. His jumper, while still not as consistent as it could be, has improved, as has his handle. 26 schools have taken notice, and 26 schools have offered.
connect with us & get a guide
Contact Us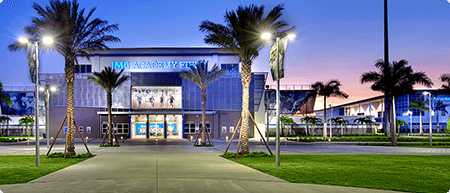 5650 Bollettieri Boulevard
Bradenton, FL 34210
Fill out the form below and we'll be in touch soon!
Request a brochure
We offer downloadable brochures about our boarding school, youth camps, adult programs, team training and pro/collegiate training in multiple languages.
Visit Us
Are you interested in touring the IMG Academy campus? Fill out the form below to submit a tour request and we will be in touch soon to confirm your request.