IMG Academy's Eric Feliz invited to Perfect Game Underclass All-American Game; looking forward to spring

IMG Academy's Eric Feliz, a rising junior, has had a busy summer, earning All-Tournament honors at the 16U Perfect Game BCS Finals, June 27 - July 3, and the WWBA East Memorial Tournament, July 12-19. Next week, Feliz will have an opportunity to add more accolades to his resume when he takes part in the 2013 Northeast Top Prospect Showcase in Bristol, Conn., Aug. 9-11 and the Perfect Game Underclass All-American Game in San Diego, Calif., Aug. 12-13.
"It's really an honor to be invited to these events because there are a lot of the top players in the country that you're competing against, and it will give me more of an idea how I stack up against them," said Feliz on participating in the game. "The most important thing for me going into it is confidence, because at big events like this, confidence is so important and showing what you can do on the baseball field."
The Englewood Cliffs, N.J. native plans to arrive a day early to take in the action at the Perfect Game All-American Classic presented by Rawlings, held to showcase the top rising seniors in America. Feliz follows other top players around the country to learn as much as possible.
"I want to watch the players ahead of me in their showcase, so I can see how they play the game the right way," Feliz explained.
Feliz has certainly made a name for himself in 2013. During the regular season, Feliz made a late surge and helped lead IMG Academy to a victory in the inaugural IMG National Classic, April 1-5. Feliz took tournament MVP honors at the event after recording two doubles in four at-bats, bringing home four runners and putting IMG Academy out front en route to the win. At the end of the season, the IMG Academy Baseball program recognized Feliz's hard work and improvement by granting him its highest honor in the IMG Award. Now he hopes to carry the momentum into next spring.
"I look forward, simply, to more and more success, but I especially look forward to coming back in the fall and the work that I will have to put in to be a much better player next spring," said Feliz.
He continued: "It's always the people that are devoting themselves and putting in the extra time in the cages, taking ground balls and fly balls, and everything else, and I'm really excited to prepare myself, because I feel like I have a chance to do great things in the spring if I do the right things in the fall. Being a team player, being looked at as an even better teammate than I was last year, getting along with my teammates not just as teammates, but as good friends are all things I'm striving for next year. We're going to create great memories next season."
However, Feliz's commitment to excellence extends off the field. A strong student in the classroom, Feliz and his younger brother Michael (pictured left' Michael is seated left) , took part in the prestigious Debate Institutes at Dartmouth College earlier this summer.
"We went there to learn how to be stronger in debate, and I thought it would come easy since I like to argue and I always have to have a reason to justify my beliefs, but I learned that debating and arguing are completely different things," Feliz said of the program. "It was a bit of a gut check, because there were kids there that focused on debate like a sport, so I learned a lot and picked up new communication skills."
Feliz has also been invited to participate in the 2013 Prospect Wire Underclass All-American Games in Tampa Fla., Aug. 16-18 and the Baseball Factory Arizona Junior Fall Classic in Peoria, Ariz., Oct. 19-23. Over the summer, he also took part in the invite-only Perfect Game Junior National Showcase in Minneapolis, Minn., June 11-12. Feliz is ranked by Perfect Game as the No. 3 overall prospect and No. 1 outfielder from the state of New Jersey in the class of 2015.
Photo by: IMG Academy
connect with us & get a guide
Contact Us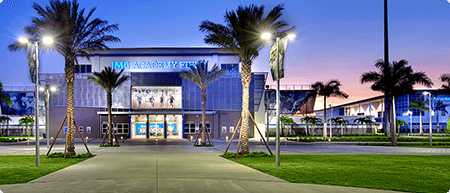 5650 Bollettieri Boulevard
Bradenton, FL 34210
Fill out the form below and we'll be in touch soon!
Request a brochure
We offer downloadable brochures about our boarding school, youth camps, adult programs, team training and pro/collegiate training in multiple languages.
Visit Us
Are you interested in touring the IMG Academy campus? Fill out the form below to submit a tour request and we will be in touch soon to confirm your request.