IMG Academy's Grayson Goldin is headed to Florida State University

Grayson Goldin (middle) signs with FSU. His parents Robin Goldin (left) and Heather (right), along with coach David "Red" Ayme were on hand for the occasion
The Florida State men's tennis team took advantage of being in a great tennis state as head coach Dwayne Hultquist signed four Floridians to the 2013 class. Each signee is rated four-stars or better on tennisrecruiting.net making this one of the top classes in Florida State tennis history. The team signed Jose Gracia of Delray Beach, Grayson Goldin who trains at IMG Academy in Bradenton, Florida, Jake Albo of Plantation and Jack Haffey of Naples.
"I would have to say this is probably the best recruiting class we have ever brought in," said head coach Dwayne Hultquist. "To have all four of them from the state of Florida is a real credit to our staff and the hard work that they put in. We're anticipating that the class will be regarded in the top five of the country."
Gracia, a five-star blue chip player from Delray Beach, Fla., is ranked No. 10 in the nation and No. 2 in the state of Florida. According to Tennisrecruiting.net, he holds a 55-12 record. This past September he won the USTA Regional Tournament in Delray Beach and in April 2012 the NCTC Designated Boys 18 in Naples, Fla. In total, the Florida Virtual attendee has won five championships this year. During the summer, he competed at the USTA Florida Closed Sectionals where he reached the semifinals, losing to his future teammate and current Florida State student-athlete Dominic Cotrone.
"I was out for two years due to a fractured back and having a cyst in my right shoulder," said Gracia. "I gave myself a goal at the start of the year to become number one in Florida. I did so in less than nine months. I'm enjoying tennis more than ever now and don't take being healthy for granted because being out for two years made me realize how much I really love the sport of tennis."
Bradenton, Fla., native Goldin is a five-star recruit according to tennisrecruiting.net. Goldin is ranked No. 4 in Florida and No. 34 in the nation, including No. 12 in the Southeast. The IMG Academy trainee has a 47-27 record on the courts and reached four quarterfinals this year. He reached the finals of both the Gulfstream Boys' 18 at Delray Beach, Fla., and the USTA Closed Sectional Boys' 18. He also competed against Cotrone and lost to him in the finals.
"I could not possibly be more excited to start at Florida State," said Goldin. "It is going to be one of the best times of my life. It's going to be fun to be on a team. My two goals are that I want our team to win the National Championship and I want a singles and doubles title."
"Jose has tremendous physical tools and really emerged this summer as one of the best junior players in the country," said Hultquist. "Grayson is a very good all-around player and has a good work ethic and is committed to improving his game."
Albo is a five-star recruit from Plantation, Fla., who attends the Sagemont School in Weston. He won the singles and doubles 1A Florida High School Athletic Association titles and is ranked No. 6 in the state of Florida and No. 38 in the nation according to tennisrecuiting.net. He won the Whispering Pines Boys 18 in Port Saint Lucie in December. This year he has reached three semifinals including the Delray Beach ITF and the USTA Regional Tournament in Coral Gables.
"Jake has won at every level in the juniors," said Hultquist. "He has beaten all the top players, has a very good all-around game and has recently really improved on his serve and his aggressive game."
Haffey is a four-star recruit from Naples, Fla., who is ranked No. 21 in Florida. Attending Florida Virtual School this year he reached five singles quarterfinals according to tennisrecruiting.net. This year he won two out of the four National Level 3 tournaments in doubles and reached the finals in the most recent one. This year he also won two Level 2 Florida events in doubles and has two National Open doubles titles with the most recent last season. At the USTA Closed Sectional Boys' 18 this summer, he competed against Cotrone and lost to him in three sets. Tennis runs in his family as his mother Catherine played in the number one spot at Miami of Ohio.
"I am so excited to finally be a Seminole and represent Florida State," said Haffey. "I picked Florida State because of its many amazing qualities such as its awesome coaching staff and the very high level of current players on the team. I honestly could not have picked anyone better to be going to school with than Jake, Grayson and Jose. The facilities are second to none and Tallahassee is an amazing town."
"Jack may be one of the most improved players in the state of Florida," said Hultquist. "He has really improved himself, especially in doubles, winning national tournaments. He's going to be a great addition to the University as a student-athlete."
The Seminoles start the season on January 12, 2013. For more information, check back to Seminoles.com. You can also follow the team at Twitter.com/FSU_MTennis.
Credit to: Seminole.com
connect with us & get a guide
Contact Us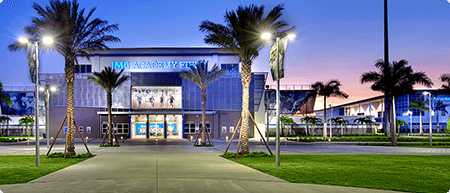 5650 Bollettieri Boulevard
Bradenton, FL 34210
Fill out the form below and we'll be in touch soon!
Request a brochure
We offer downloadable brochures about our boarding school, youth camps, adult programs, team training and pro/collegiate training in multiple languages.
Visit Us
Are you interested in touring the IMG Academy campus? Fill out the form below to submit a tour request and we will be in touch soon to confirm your request.