IMG Academy's Justin Su'a a featured guest on the Tim Elmore podcast
Tim Elmore, the founder and president of Growing Leaders and regarded as one of the thought leaders on Generation iY, welcomed IMG Academy Head of Mental Conditioning Justin Su'a to his podcast this week. Su'a, who recently authored a book of his own, Parent Pep Talks: Mental Skills Your Child Must Have to Succeed in School, Sports, and Life, sat down with Elmore to discuss the role of mental conditioning in sports, working with athletes at IMG Academy and goes on to teach parents five ways to help their children be more mentally tough. 
The podcast is available online, and you can listen to it in its entirety at GrowingLeaders.com, by clicking HERE. 
However, here are some excerpts from Elmore and Su'a's discussion:  
How has culture affected the "mental toughness" of young people of this generation?

Mental toughness is a phrase so many people use. When I think about it, it's your ability to remain in control in any and every circumstance. It's also your ability to push through things that may be boring. The culture plays a tremendous role in it. It's interesting to see how this plays out. Young athletes want instant gratification. They want everything to happen now. We need to teach them to focus on the process, and results will follow.

It seems like resilience is diminishing in kids. Talk about the importance of resilience and what we'll have to do to re-cultivate it.

A quote that I love to share is from Mike Tyson: "Everyone has a plan until they get punched in the face." At the first sign of adversity, everything's out the window. You'll always revert to your dominant habits under pressure. One thing I think we can do to help these youngsters is having them frame their plan beforehand. Young athletes often judge incorrectly if left to judge by themselves. Helping them understand judging correctly will help their resiliency.

Walk us through your 5 strategies to help kids become mentally tough.

Coach-ability. Being able to be coachable. Praise their effort and be specific with feedback.
"How do I create the environment for my athletes to motivate themselves?" There are three Cs that we follow: competence, control and camaraderie. Let your students feel like they're progressing at a task. The less control a student feels they have, the more negative they'll be. Combine these two things with team building and friendships within the team, and this is a recipe for success.
Providing the right frame. A coach can help their athletes focus on "getting better" rather than being "good."
Teach kids how to fail. Adaptability is huge. Kids should know they don't need their 'A' game to succeed. Teach them to expect the best, but plan for the worst.
Help them find the right attitude. Pessimism never breeds peak performance.

What difference do you see between Olympic athletes and novice athletes?

Their ability to deal with failure, hands down, and their ability to refocus after being distracted. They're great at controlling themselves when they fail. They keep themselves motivated and focused always.

 
connect with us & get a guide
Contact Us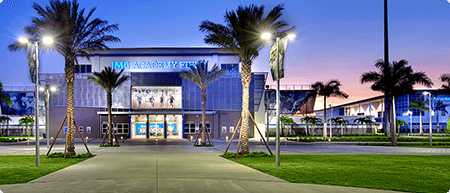 5650 Bollettieri Boulevard
Bradenton, FL 34210
Fill out the form below and we'll be in touch soon!
Request a brochure
We offer downloadable brochures about our boarding school, youth camps, adult programs, team training and pro/collegiate training in multiple languages.
Visit Us
Are you interested in touring the IMG Academy campus? Fill out the form below to submit a tour request and we will be in touch soon to confirm your request.