IMG Academy's Madison Corley wins Vermont Women's Am; youngest-ever to win the event

IMG Academy's Madison Corley achieved a major milestone, becoming the youngest-ever winner of the Vermont Women's Amateur at the Manchester Country Club in Manchester, Ver., Aug. 13-15. Corley has been a student-athlete at IMG Academy since 2011, and at 17-years of age, has impressed the IMG Academy Golf program with her hard work and focus. 
Her coach Grant Price remarked, "I am very proud of her achievement, and see it as a great point from which to advance her career and continuing to push herself to greater heights. I am looking forward to seeing her develop further!"
For more on Corley's victory, check out the story from the Burlington Free Press: 
Madison Corley was 13 years old the first time she entered the Vermont State Women's Golf Association amateur championship. She finished in the top 20.

Now, four years later, Corley finally accomplished the goal she had set that first year: victory in the annual clash of the state's best. She accomplished that on Thursday at Manchester Country Club, becoming the youngest player to win the Vermont amateur championship.

"It feels good," Corley said a day after her win. "I've accomplished one of the goals I set for myself so far. It really boosts my confidence."

It didn't come easy for the 17-year-old from Essex Junction, as she needed to hold off Rutland's Kristin Mahoney — who stayed within striking distance of Corley the entire tournament. Mahoney finished with a final round 72 just one stroke behind Corley, who shot a final-round 73.

"It was hard," Corley said. "At one point I was up by three shots, then she birdied the next two holes. So to win it by one I just stayed in the zone, that made it feel even better."

Make it even more difficult was a weather delay that shortened the tournament to 45 holes. Soon after the golfers started Tuesday's first round, inclement weather caused the round to be postponed to the following day, and the tournament to be shortened.

"That first day we only played four holes, and I was off to a really good start," Corley said of the weather delay.

Corley, who attends IMG Academy in Florida, was able to maintain her focus and continue her strong start when play resumed Wednesday.

"This tournament, I was so in the zone," Corley said. "I was able to stay focused; I usually focus on everyone else's game, but I was able to stay focused on my game."

Corley, a member at Links at Lang Farm, also enjoyed winning at the Manchester Country Club. It was her first time on the southern Vermont course.

"You had to play it smart; it was narrower, but that didn't bother me because that's a strength of my game," Corley said. "There were a few tricky holes, but when I knew I was in the lead, I started to play it safe. On the back (nine) you need to play it safe."

Corley aimed for this title after finishing second in last year's tournament and struggling at Division I nationals this year.

"I went to nationals at Pine Hurst and I didn't do too well, so that got me fired up to come in and win this," Corley said.

Now that Corley has accomplished her goal of winning the Women's Vermont Amateur, she has her eye on her next goal: victory in the New England Amateur next summer.

In addition to adding another trophy to her golf bag, Corley is also looking to finish her senior year and play for a Top-20 NCAA golf program. Corley already has offers from Division I schools, and is looking at top programs such as the University of North Carolina, Coastal Carolina and Clemson, among others.
connect with us & get a guide
Contact Us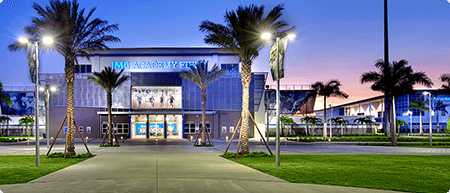 5650 Bollettieri Boulevard
Bradenton, FL 34210
Fill out the form below and we'll be in touch soon!
Request a brochure
We offer downloadable brochures about our boarding school, youth camps, adult programs, team training and pro/collegiate training in multiple languages.
Visit Us
Are you interested in touring the IMG Academy campus? Fill out the form below to submit a tour request and we will be in touch soon to confirm your request.