IMG Academy's Nandini Das and Shweta Sangwan blow away the competition in Central America

Since the end of the school year, IMG Academy Bollettieri Tennis student-athletes Nandini Das and Shweta Sangwan have gone on the road to Central America to compete in Grade 4 events. Das and Sangwan are only 14-years of age, and have been winning consistently against older, more experienced players.
On the week of June 16, Sangwan and Das each took part in the Copa Mundo Maya in Guatemala City, Guatemala. For Sangwan, it was a hard fought road to a second-straight semifinals appearance after competing in the Grade 4 Copa INDES Internacional the week prior. Sangwan made short work of her first-round opponent, then bested Sydney Riley in a tightly contested match, 7-6(2), 6-2, in the Round of 16. Sangwan notched on additional victory over Sabrina Faybyshev (USA, ITS No. 627). Though Sangwan reached her second straight semifinal her third of the year, she fell short of a finals appearance at the hands of Katie Swan (GBR, No. 574 ITF), 0-6, 4-6.
Meanwhile, her classmate and teammate Nandini Das reached the finals of the Copa Mundo Maya and won, taking her first career ITF tournament victory. Das made her second career finals appearance after defeating Puerto Rico's Yolimar Ogando (No. 310 ITF) convincingly, 6-0, 6-4. However, probably the bigger triumph came in the Round of 16, when she knocked off Jenna Friedel of the United States (No. 294 ITF), who defeated Maria Shishkina (KAZ, No. 149 ITF) last month at the Plantation ITF in Florida. Das won a hard fought match against Friedel, 3-6, 6-4, 7-5. Das won the final by way of Katie Swan's retirement prior to the match.
Notably, Sangwan recently rocketed 222 spots in the ITF ranking to reach her career high of 706, while Das vaulted a staggering 492 spots to reach her current career-high of 654. Sangwan and Das came to IMG Academy from India through the IMG Reliance Student-Athlete program in 2010. The IMG Reliance Student Athlete program offers aspiring young athletes in India in the sports of tennis, soccer and basketball the opportunity to train under the guidance of world-class coaches at IMG Academy's top-notch facilities.
Photo by: IMG Academy
connect with us & get a guide
Contact Us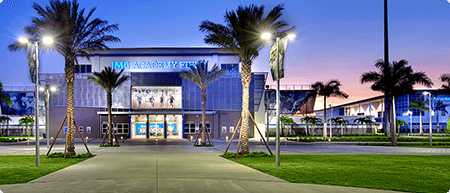 5650 Bollettieri BLVD.
Bradenton, FL 34210
Fill out the form below and we'll be in touch soon!
Request a brochure
We offer downloadable brochures about our boarding school, youth camps, adult programs, team training and pro/collegiate training in multiple languages.
Visit Us
Are you interested in touring the IMG Academy campus? Fill out the form below to submit a tour request and we will be in touch soon to confirm your request.