IMG Academy's Newport Laparojkit and Kanyanat Saithip win on Hurricane Junior Golf Tour

Recently, IMG Academy's own Newport Laparojkit and Kanyanat Saithip, who both hail from Thailand, claimed victories on the Hurricane Junior Golf Tour (HJGT) at the IMG Academy Junior Classic, held at the IMG Academy Golf Club, April 27-28. 
Additionally, IMG Academy players claimed the top-five spots in the Boys 15-18 Division. Following Laparojkit were Juan Veloza in second place, and Shuhei Takahashi, Claudio Correa and Rodrigo Munoz who all tied for third.
In the Girls 15-18 Division, IMG Academy claimed the top-nine places. Following Saithip were Gianna Tomeo (2nd), Alex Wright (T3), Christina Wang (T3), Michelle Yan (5th), Estefania Morales (6th), Vanessa Yan (T7), Vitoria Teixeira (T7), and Ayaka Suzuki (9th). 
"Bradenton, FL (April 28, 2013) –The HJGT made the trip over to the Gulf Coast for the second event in Bradenton of the 2013 season. The event that took place was the IMG CC Junior Classic held at the IMG Country Club. The field of play was by far the largest of the 2013 season, with 123 players spread across the four age divisions. Tournament format consisted of a double wave double tee with the boy's 15-18 division, composed of 69 players, teeing off in the morning and the three remaining divisions teeing off later in the afternoon. Weather was optimal for golf with consistent sunshine and temperatures fluctuating comfortably in the 70-80 degree range. This event held numerous honors at stake. The champions of the boy's and girl's 15-18 age division received 4 performance stars. The event was ranked by National Junior golf scoreboard and the winner of the boy's 11-14, 15-18, and girl's 15-18 age division earned 1 exemption into a Florida Junior Tour (FJT) event. Winners earned an automatic bid into the 2013 tour championship and top 10 finishers received points toward year end honors including all HJGT teams, and the Hurricane Cup (click to learn more and see current standings).
With 69 total players competing within it the boy's 15-18 age division this was one of the largest in HJGT history. Scores on this challenging course were spread out in a vast range. Champion of the division was Newport Laparojkit of Bradenton, FL who shot even par over the two day event. Laparojkit shot rounds of -1 and +1. On the back nine of day one Laparojkit strung together a score of 33, shooting 3 birdies and 6 pars. With a total par or better percentage of 86.1% through the two day event Laparojkit separated himself from the other 68 players by performing astonishingly well on par 3's leading the division with his 2.75 average. Finishing in second place was Juan Veloza of Colombia. Veloza finished 2 strokes out of first place, ending the tournament at +2. He was able to finish in the top three after shooting even-par Sunday. Veloza performed well on the front nine shooting 12 total pars to go along with 3 bogeys and 3 birdies. Veloza finished the event with the third most pars, accumulating a total of 28. In third place was a tie between Shuhei Takahashi of Bradenton, FL, Claudio Correa of Bradenton, FL, and Rodrigo Munoz of San Miguel, Mexico. Takahashi's most impressive statistic was the 5 total birdies he managed in round 2. Correa managed the fourth best par or better percentage with an 80.6% stat line. Munoz's most notable statistic was his 4.62 average on par fives over the weekend.
From the girl's 15-18 age division scores between the top three fell within one stroke of each other with the leaders finishing +7, +8, and +9. The lead was won out on day two by Kanyanat Saithip of Bradenton, FL who shot the lowest score from the division at 72 to defeat her adversaries. Saithip snuck into the lead with the low round after struggling Saturday stringing together a 79. Saithip led the division with 4 birdies, all of which came on Sunday. Finishing in second place was Gianna Tomeo of Bradenton, FL who finished with a total of +8 after two consistent rounds of 76. Tomeo performed best on par 3's and 4's shooting averages of 3.00 and 4.30 respectively. The top three concluded in a tie for third between Alex Wright and Christina Wang, both of Bradenton, FL."
connect with us & get a guide
Contact Us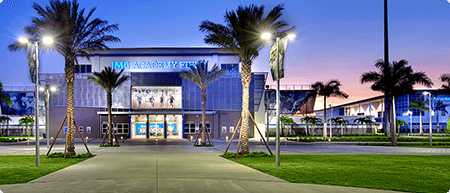 5650 Bollettieri Boulevard
Bradenton, FL 34210
Fill out the form below and we'll be in touch soon!
Request a brochure
We offer downloadable brochures about our boarding school, youth camps, adult programs, team training and pro/collegiate training in multiple languages.
Visit Us
Are you interested in touring the IMG Academy campus? Fill out the form below to submit a tour request and we will be in touch soon to confirm your request.