IMG Academy's Nick Bollettieri holds three clinics in England

IMG Academy's own Nick Bollettieri, the legendary tennis coach that helped develop 10 World No. 1 players, as well as a multitude of other world-class players, recently visited England to take in Wimbledon and provide his unique insight into the game for media, and to support IMG Academy trained players in the event. While across the pond, he completed a round of coaching clinics. Bollettieri's first stop was at Bradfield College, a private school located just outside of London on June 17. At Bradfield, 20 adults and more than 25 children arrived to hear Bollettieri speak, and he spent one-on-one time with each participant. Bollettieri showed everyone how to improve their strokes, including the forehand, backhand and serve. The clinic was held with the assistance of Bradfield's Damian Fuller and Toby Foxcroft.
Bollettieri's next stop took him to Wells Cathedral, a private school located in Wells, England on June 18. The clinic was set up by Dean Cornish, and Bollettieri spent the start of the clinic working with players and coaches from the Royal Navy, and spent the next several hours working with students from the school. During the morning session, classes were dismissed for 300 students to listen to Bollettieri speak for 45 minutes. Bollettieri closed out the clinic by working with players aged 5-18-year of age.
Bollettieri ended his clinic tour in England on June 18-19 with a stop at the Queen's Club in London. The Queen's Club is one of the most exclusive tennis clubs in the country, and Bollettieri worked with 20 children on the first day, and 20 adults on the second day. Notably, Queen's Club is where warm-ups for Wimbledon are held. 
Photos from Bollettieri's clinics in England: 
Photo by: IMG Academy
connect with us & get a guide
Contact Us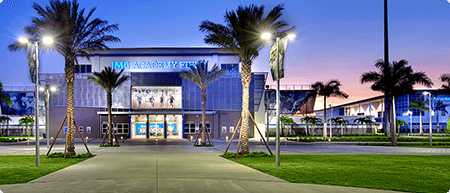 5650 Bollettieri Boulevard
Bradenton, FL 34210
Fill out the form below and we'll be in touch soon!
Request a brochure
We offer downloadable brochures about our boarding school, youth camps, adult programs, team training and pro/collegiate training in multiple languages.
Visit Us
Are you interested in touring the IMG Academy campus? Fill out the form below to submit a tour request and we will be in touch soon to confirm your request.