IMG Academy's program designed to improve chances of moving up in NBA draft

BRADENTON - Kenny Kadji arrived in Bradenton nearly a month ago to hone his skills prior to the NBA draft. He's got some attributes pro teams are looking for, like size (6-feet-11, 255 pounds), range (7-3 wingspan) and a nice jumper.
There are still things to be worked on and tweaked, so he is participating in the NBA Draft Training Program at IMG, a renowned sports academy with a state-of-the-art training facility.
One thing is adjusting the way Kadji, who helped the University of Miami get to the Elite Eight last year, shoots the ball.
Dan Barto, the head pro skills trainer at IMG, has been telling Kadjito move his right elbow on his shooting arm in toward his face more.
"To be more consistent," Kadji said early last week before an on-court training session, a Gatorade in one hand and a packet of supplements in the other.
There was another thing the IMG staff focused on with Kadji: Getting his shoulders bigger and his waist smaller through conditioning and weight training.
"We wanted to make him as physical looking of a specimen as possible," Barto said. "So when he stood next to the other guys at the combine he would already look like he belonged in the NBA. His skills are already at that level."
The combine took place May 16 and 17 in Chicago. Most reporters who mentioned Kadji wrote about his maximum vertical leap (38 inches), his size and his perimeter play.
But IMG's staff is hoping that the change in Kadji's physique will set him apart and get him picked earlier in the NBA draft, which takes place June 27.
IMG's approach has worked before.
Take the case of Miami Dolphins quarterback Ryan Tannehill, whose footwork was described as choppy while he was at Texas A&M. He worked out with Chris Weinke at IMG before the draft in 2012 and, at the combine, scouts were impressed with how much his mechanics had improved.
Tannehill went in the first round, eighth overall to the Dolphins.
Kadji, a power forward, is joined by three college teammates at IMG: Shane Larkin, Julian Gamble and Reggie Johnson. Seven other college players are also on site: Illinois' Brandon Paul, South Dakota State's Nate Wolters, Oklahoma's Romero Osby, Missouri's Laurence Bowers, Memphis' Adonis Thomas, Arkansas' BJ Young and Rice's Tamir Jackson.
Most of the players get to IMG through their agents. Kadji knew about it before — he went to high school at IMG — and he made it a point to train there before the draft because he had an idea of what the program had to offer.
"It was a done deal for me," he said. "I already knew the people here and they prepared me for college well. They also helped me while I was in college."
The program includes about 12 hours per day of physical training and mental training. There's a communications class where instructors teach players how to enter a room, how to dress before interviews with coaches and to look a coach in the eye when answering questions.
"When they leave here, they're going in ahead of the game," said Kenny Natt, the Director of Basketball at IMG.
Natt played and coached in the NBA and said he didn't have anything close to what IMG offered in his days.
"From the professionalism to the advanced strength and training, what we do here is on another level," said Natt, who joined the staff 11 months ago.
Larkin said he feels like he's improved.
"I was working out with someone in Miami who was pushing me really hard but I couldn't get the same type of training all in one place like I have here," Larkin said. "The group sessions, the physical therapy, the supplements, getting out of Miami and away from the distractions. All of that has helped me improve."
And, like he did during the college season, he impressed at the combine.
Larkin, all 5-foot-11 of him, posted a 44-inch vertical leap, the second highest ever in combine history. He also had the best sprint time of all the players there.
"He passed up a lot of people in his class this season," Barto said. "Hopefully we can help him do more of that leading up to the draft."
These guys are all very qualified, very experienced," said Shane Larkin, who played
"My shot and my range has gotten better and I'm becoming more consistent as a shooter. I'm, also getting more comfortable using my right hand," he said.
Gamble isn't a top prospect but thinks he can get picked up in free agency. If not, he'll try to get a contract with an overseas team.
"There are pros and cons to both situations. The NBA is the best league in the world but playing overseas you get the opportunity to see the world."
connect with us & get a guide
Contact Us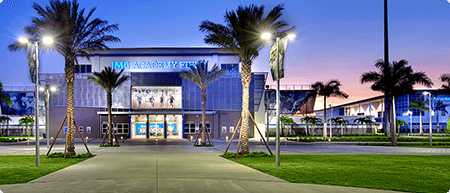 5650 Bollettieri Boulevard
Bradenton, FL 34210
Fill out the form below and we'll be in touch soon!
Request a brochure
We offer downloadable brochures about our boarding school, youth camps, adult programs, team training and pro/collegiate training in multiple languages.
Visit Us
Are you interested in touring the IMG Academy campus? Fill out the form below to submit a tour request and we will be in touch soon to confirm your request.