IMG and Hospital for Special Surgery Team Up on Multi-Faceted Collaboration

NEW YORK (December 16, 2013) – IMG, the global sports, fashion, and media company, announced today a new relationship with Hospital for Special Surgery (HSS), the No. 1 hospital in orthopedics, as ranked by U.S. News & World Report (2013-14) and a leader in rehabilitation. Together the two industry leaders will provide a robust athlete rehabilitation program focused on diagnosis, treatment, accelerated injury recovery, and injury prevention, while collaborating to take the area of sports rehabilitation research and innovation to the next level.
As part of the relationship, HSS will operate a sports therapy facility at IMG Academy in Bradenton, Fla., which will tend to the Academy's student-athletes, while also providing services to the thousands of youth, collegiate, professional and adult athletes who travel to the campus annually to train or compete.
"In continuing to align with global leading brands in sports performance, HSS will bring unmatched expertise to our diverse athlete population," said Sam Zussman, Senior Vice President, IMG and Managing Director, IMG Performance. "Athletes will receive the best orthopedic and rehabilitative care from HSS specialists who will work with IMG coaches and trainers to help athletes return to the field or court as quickly, healthy and strong as possible, while guarding against future injury."
In addition to its activation on the campus of IMG Academy, HSS will extend services to the elite athletes, coaches, and sports organizations represented by IMG, as well as its employees.
Said Mike Dolan, Chairman and Chief Executive of IMG, "HSS's extensive knowledge and practical application in working with some of the world's most elite athletes will significantly enhance our ability to provide our global sport clientele with a truly best-in-class option for their rehabilitative needs."
IMG Performance will assist HSS in determining protocols for injury prevention, and in designing collaborative research initiatives that will lead to new insights into injury prevention and recovery among high-performing athletes. In addition, the two leaders will create comprehensive education and training programs, including a series of professional education conferences at IMG Academy for physical therapists, trainers and other specialists to share timely information in this emerging sports performance field.
HSS physicians are official team doctors for the New York Giants, Mets, Knicks, Liberty, and Red Bulls. HSS is also the official hospital for The PGA of America and New York Road Runners for the ING New York City Marathon. The hospital was recently designated the first National Medical Center of the United States Olympic Committee, serving as an official hospital for U.S. athletes.
Remarked Louis A. Shapiro, President and CEO of HSS, "Like IMG, we have long specialized in working with high-performing athletes and enabling them to maintain long and healthy careers. Our doctors and performance specialists are the most highly respected in the sports medicine and athletic rehabilitation fields today, and we are looking forward to providing our expertise to IMG's global network of athletes, while continuing to advance research and innovation in athletic rehabilitation on the campus of IMG Academy."
"As a longtime trainee of IMG Academy and an athlete who has relied on the sports medicine expertise of Hospital for Special Surgery to help me maintain a long and successful career, I am happy to see these two leaders in their respective fields come together to assist athletes at all levels reach their goals and maximize their performance over the course of their career," said tennis professional Tommy Haas who has collected fifteen titles on the ATP tour.
HSS joins a growing list of industry-leading IMG Performance colleagues, like Gatorade and the Gatorade Sports Science Institute, Under Armour, Motus Global, ALINE, and Prince Sports. A physical presence at IMG Academy affords these innovative companies the opportunity to analyze the habits of elite athletes of all levels, with a focus on the serious athlete aged 13-18, a segment of the athlete population for whom little performance data exists.
connect with us & get a guide
Contact Us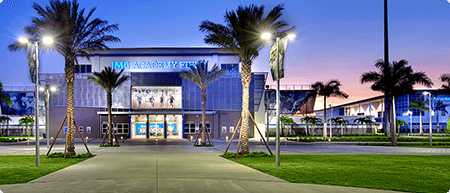 5650 Bollettieri Boulevard
Bradenton, FL 34210
Fill out the form below and we'll be in touch soon!
Request a brochure
We offer downloadable brochures about our boarding school, youth camps, adult programs, team training and pro/collegiate training in multiple languages.
Visit Us
Are you interested in touring the IMG Academy campus? Fill out the form below to submit a tour request and we will be in touch soon to confirm your request.