IMG Nationals announces first wave of qualifying events

Bradenton, Fla. (February 18, 2013) – The IMG Nationals, a lacrosse national championship, has announced the first wave of local qualifying events for 2013. The winners and runners-up at each regional qualifier will be invited to the world-renowned IMG Academy for the inaugural event held on Nov. 22-24, with the chance to earn the U15, U17 or U19 national championship title. 
"We're committed to providing a professional-quality year-end event, so we are selecting only the very best local and regional tournaments from around the country to sanction as qualifiers," said Bill Shatz, Director of Lacrosse, IMG Academy, and IMG Nationals Tournament Director. "We're ecstatic about the tremendous enthusiasm among tournament operators since we announced the IMG Nationals, and expect to finalize our final roster of 25-30 top-tier events by the end of March, securing the nation's best youth teams for the national championship." 
The first set of selected regional qualifiers includes: 
Event

 

Location

Date

 

 

Atlanta Lacrosse Invitational

Sunshine Cup

Texas Draw

PrimeTime Warrior Shootout

Summer Slam

Irondequoit Invitational

CT Chargers Summer Blast

Warrior Chicago Summer Classic

MVP2

Shore Wars

Atlanta Beach Lacrosse Classic

Nevada Lacrosse Classic

Veteran's Cup

Gainesville, Ga.

Bradenton, Fla.

Plano, Texas

Wellesley, Mass.

West Chester, Pa.

Rochester, N.Y.

Darien, Conn.

Crest Hill, Ill.

Newark, Del.

Virginia Beach, Va.

Portsmouth, R.I.

Reno, Nev.

Palm Coast, Fla.

June 1-2

June 1-2
June 1-2

June 22-23

June 22-23

June 22-23

June 27-28

June 27-30

June 28-29

June 29-30

July 12-14

Aug. 2-4

Nov. 9-10

 

 
For the teams who earn an invitation to the IMG Nationals, top college coaches and media from around the nation will be present at the national championship event, granting players a unique opportunity for exposure. IMG Academy's sponsors, such as Gatorade, will support the event with the latest in sports performance fuel and products. The event will also feature recruiting education from NCSA Athletic Recruiting to aid participants in their college pursuit.
Each divisional winner of the IMG Nationals will not only be crowned national champions, but will also receive a free week of lacrosse training at IMG Academy.
To learn more about the event, visit: http://www.imgacademy.com/img-nationals/. Teams interested in participating, or events interested in becoming an 'Official Qualifying Event,' are encouraged to contact Bill Shatz, Tournament Director ([email protected], 972-252-8476) or Jordan Satarawala, Tournament Manager ([email protected], 941-739-7497). 
About IMG Performance
IMG Performance, a division of IMG Worldwide, houses the world's leading integrated academic and athletic training establishment, IMG Academy, as well as a number of extensions that have grown out of IMG Academy. IMG Performance's primary focus is to continue to develop IMG Academy, as well as offerings such as Athletic & Personal Development Services, Performance Events, Labs & Research Collaboration, and Digital Products & Solutions.
About IMG Academy
IMG Academy is the world-leading provider of integrated academic, athletic and personal development programs. With expert instruction, a proven training methodology, professional-grade facilities and a challenging and motivating learning environment that brings together individuals of all ages and backgrounds, IMG Academy provides the ultimate foundation for future success.
The Bradenton, Fla.-based campus annually attracts nearly 200,000 athletes, coaches, event participants and spectators from 100 countries. IMG Academy offers sports camps and academy programs, in addition to training opportunities for adult, collegiate and professional athletes, as well as teams and leagues. IMG Academy is also the host venue for countless international amateur and professional sporting events.
connect with us & get a guide
Contact Us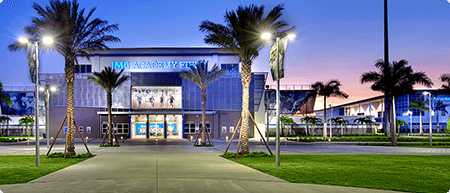 5650 Bollettieri Boulevard
Bradenton, FL 34210
Fill out the form below and we'll be in touch soon!
Request a brochure
We offer downloadable brochures about our boarding school, youth camps, adult programs, team training and pro/collegiate training in multiple languages.
Visit Us
Are you interested in touring the IMG Academy campus? Fill out the form below to submit a tour request and we will be in touch soon to confirm your request.