IMG7v7 National Championship ready for title showdown after pool play; Day 2 results

The road to the IMG7v7 National Championship officially got underway on Saturday with pool play. The 25 teams in the Club division represent 13 states and Canada, all competing for the coveted championship ring. Today, it was evident that the South Florida Express of Miami, Fla. is pulling out all the stops to win it all this year, and dominated the field on their way to claiming the No. 1 overall seed.
"We're clicking right now and everyone is doing what they're supposed to do and playing well and we're beating everybody right now," said QB Sean White (University School, Miami, Fla.). "We're not focusing on any other teams, just focusing on what we do, and we have to keep playing the way we've been playing and nobody should beat us."
For the South Florida Express, they have competed in the IMG7v7 Championship each year, and for some of the players, it is one of the highlights of the offseason.
"I love IMG man, I look forward to this time year every year, coming to such a nice facility and playing against the best athletes," commented South Florida Express WR Sam Bruce, nephew of NFL great Isaac Bruce.
However, the South Florida Express cannot rest easy, because Orlando's Central Florida Top Recruits are in the hunt after going 4-0 in their pool, and narrowly missing the No. 1 seed by only several more points allowed than the South Florida Express. Led by QB D'eondre Francois (Olympia High School, Apopka, Fla.); RB Isaiah Ford (Trinity Christian HS, Jacksonville, Fla.); and CB Duke Dawson (Dixie County HS, Cross City, Fla.), the Top Recruits are poised to make a run for the title on Sunday.
Two other teams who are turning heads at this year's Championship are Team Delaware (Wilmington, Del.) and AWP Sports (Ft. Wayne, Ind.). Both teams entered this year's event quietly, and have been impressive, each going 4-0 in their pools and securing first round byes with the No. 3 and 4 seeds, respectively. For Team Delaware, led by high school teammates QB Darius Wade and WR Chris Godwin, committed to Boston College and Penn State, respectively, this is their first time to appear in the IMG7v7 National Championships, and they are no longer under the radar after stellar performances today.
However, for AWP Sports, this is their second time in the IMG7v7 National Championship. They reached the 2012 quarterfinals behind the outstanding play of LB Jaylon Smith, who signed with Notre Dame in 2013. This year, led by DB Drue Tranquill (Carroll HS, Ft. Wayne, Ind.), the team is ready to set the standard for AWP. 
"We're looking for nothing short of a championship here, and we've been preparing for about a year now," remarked Tranquill about his expectations for AWP. "They did a great job last year of setting the stage and raising the bar high, but we're looking to exceed that this year."
The other teams who received first round byes were the South Florida Fire (No. 5); North Cobb HS (No. 6); and Team Tampa (No. 7).
The action gets back underway with the second round of the bracket tournament on Sunday morning, June 23, at 9:00 a.m. on the West Campus of IMG Academy.
The event is open to the public, and admission is free.
The IDFFL excited to bring Canadian football to the United States
In April, it was announced that the Toronto, Canada-based International Development Fast Football League (IDFFL) had become the first member league of the National 7v7 Football Association (NFA7v7). Through this alliance, the IDFFL adopted all the rules and regulations of the NFA7v7, and have been using it as a guideline for their own player development and league play. Now, the IDFFL is bringing their game to the United States, and facing off against the best of the US.
"Being part of NFA7v7 is generating some excitement around Toronto, because when they see the photos and videos, more players want to be part of it," said Anthony Cannon, head coach co-founder of IDFFL. "When we went to [the IMG7v7 Midwest Regional in] Chicago, we had two players ranked by the media as the top-10 in the event, so it makes it tangible for these kids to see how they can compete."
The IDFFL had a tough start in pool play, but several members of the 60+ media in attendance in the event remarked about how impressive the team had performed against elite US competition. For the players, they are excited to be part of the experience.
"By coming here, it shows that I have the ability to hang with the best players in the US, and when they're not able to bring me down, it shows that I have what it takes to compete against the best of the best," said Josh Perez of Lorne Park HS in Mississauga, Canada. "By bringing me down here to compete and show my stuff against the best competition, it's giving me great exposure and I'm starting to hear from more schools like Buffalo, Vanderbilt and Ohio."
The IDFFL is an instructional 7v7 football league in Canada that was co-founded in 2012 by former professional football players Anthony Cannon and Maurice Mann. They founded IDFFL to provide an environment in which participants ages 9-19 can improve their football skills, stay in shape and have fun playing in a competitive setting.
To see the full bracket for Sunday's championship tournament play, please visit NFA7v7.com by clicking HERE. 
Full results from pool play, Club division: 
Final pool play statistics for teams seeded 1-25: 
Full results from pool play, Future STARS division: 

(Check back soon) 
Photo by: IMG Academy
connect with us & get a guide
Contact Us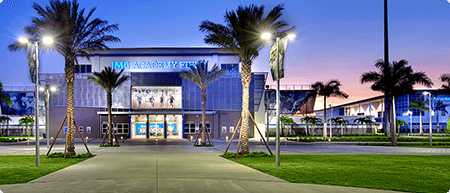 5650 Bollettieri Boulevard
Bradenton, FL 34210
Fill out the form below and we'll be in touch soon!
Request a brochure
We offer downloadable brochures about our boarding school, youth camps, adult programs, team training and pro/collegiate training in multiple languages.
Visit Us
Are you interested in touring the IMG Academy campus? Fill out the form below to submit a tour request and we will be in touch soon to confirm your request.