IMG7v7 National Championship weekend kicks off with the Cam Newton Skills Challenge

"Respect this football. It'll take you anywhere you want to go."
That was Cam Newton's message to all the participants at today's Cam Newton Skills Challenge held at IMG Academy. Newton began the event by addressing the players with a motivational message and sharing insight on what it takes to reach the next level. Newton himself values 7v7 football in the role of player development, and was excited to bring his Skills Challenge back to IMG Academy for a second year.
"Since our first Skills Challenge at last year's IMG7v7 National Championship, I've been looking forward to coming back with a bigger and better event," said Newton. "The Skills Challenge is a fun way to jumpstart a weekend of intense competition."
The Skills Challenge certainly jumpstarted the weekend, as Newton challenged the quarterbacks through a series of drills that tested each player's abilities to throw the ball at stationary and moving targets, and to make their throws standing tall and on the move. The skills positions, meanwhile, were put to the test through a series of drills that tested their strength, speed and agility while having to make tough catches after each drill. For the players involved, it was a unique opportunity to compete and perform alongside the Carolina Panthers' star QB, and at time, compete alongside him as Newton ran through the challenges himself.
"It was fun, but it was competitive and I had to bring my attitude and my effort," said Fred Billy of Bradenton, Fla., and winner of the Future STARS Skills Challenge. "I learned a lot, and Cam talked a lot about respecting the game, and I took that into perspective and did what I had to do to show what I could do."
For Newton, however, 7v7 football was an instrumental part of his own development as a quarterback.
Newton remarked, "7v7 played an important role in my development as a young player and it's great to see how much the sport has grown. IMG and the NFA7v7 are doing great things to create opportunities for kids to continue developing as players and young men outside of their high school season."
Newton's belief in 7v7 football is such that the team he organizes bears his name, the Cam Newton All-Stars. The All-Stars competed in the 2012 IMG7v7 National Championship, and are back again to take the championship when pool play kicks off on Saturday.
"I look forward to bringing my high school and club teams down to IMG Academy every year as part of my Cam Newton Foundation efforts to create positive learning and training opportunities for young athletes."
Champions in the Cam Newton Skills Challenges were presented with Gatorade G-Standout Awards; along with a free pair of ALINE insoles; products from SPRI; and a GRID Foam Roller from Trigger Point.
The action gets back underway with pool play on Saturday morning, June 22, at 9:00 a.m. on the West Campus of IMG Academy. The first round of the bracket tournament will also take place at 5:00 p.m. following pool play. The event is open to the public, and admission is free.
Results of the Cam Newton Skills Challenge:
QB Challenge, High School division:
1st - Alex Willis, 29.16
2nd - Devin Smith, 33.38
3rd - Luke Ward, 34.27
QB Challenge, Future STARS division:
1st - Cory del Prado, 30.85
2nd - DeAndre Weaver, 39.51
3rd - Nick S., 41.05
Skills Challenge, High School division:
1st - Dale Warren, 26.82
2nd - Mike Majette, 29.06
3rd - TL Ford, 29.15
Skills Challenge, Future STARS division:
1st - Fred Billy, 29.82
2nd - Dylan Lester, 31.43
3rd - Jordan Silva, 31.78
connect with us & get a guide
Contact Us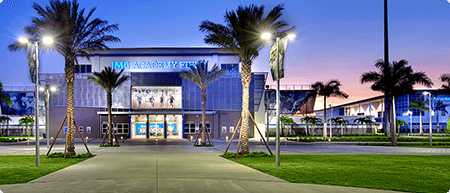 5650 Bollettieri Boulevard
Bradenton, FL 34210
Fill out the form below and we'll be in touch soon!
Request a brochure
We offer downloadable brochures about our boarding school, youth camps, adult programs, team training and pro/collegiate training in multiple languages.
Visit Us
Are you interested in touring the IMG Academy campus? Fill out the form below to submit a tour request and we will be in touch soon to confirm your request.