ITF Pro Circuit meets... Christian Harrison

Following his maiden singles title win on the ITF Pro Circuit, Christian Harrison took part in our Q&A. Read on to find out more about this up and coming young American player such as, who was his favourtie player, which players skills would make up his super player and why will he always remember the opening point of his US Open doubles quarterfinal?
ITF Pro Circuit: Can you tell us where were you born and maybe describe the area where you grew up?
Christian Harrison: I was born in Shreveport, Louisiana and I grew up playing tennis at the country club where my Dad worked and taught tennis.
Do any other members of your family play sport?
My Dad played college tennis and professionally for a short period and my brother, Ryan, is currently ranked 57 on the ATP World Tour.  We have a younger sister who is in high school and plays tennis as well.
So how did you get started in tennis?
I got started because my Dad was a former player and tennis coach and when we were little, my brother and I used to love to go to work with him and just hang out at the country club all day.  As soon as we were big enough to hold a racquet we were hitting balls against the wall in Shreveport, Louisiana.
What can you tell us about your current coach?
My coach is my Dad, Pat Harrison.  We have a great relationship and really enjoy being on court together.  He has coached me ever since I was little and works with me at IMG Academy.
Who were/are your tennis idols?
Growing up I always loved watching Pete Sampras.
What is your greatest tennis memory either as a player or as a fan?
So far my greatest memory was reaching the Quarterfinals of the US Open Doubles with my brother this past summer.  It was the first time we played together at the pro level and our first time playing together in a Grand Slam.  It was so much fun and the crowd support was amazing for every match.  I hope we can win the title one day.
In your opinion, what would you say are the best and worst aspects of being a professional tennis player?
I think the best aspect of being a professional tennis player is that it is an individual sport and you don't have to rely on anyone else.  All the responsibility is on your own shoulders to do everything correct to prepare, play and win or lose.  I think the worst part for me is the travelling and long days of being on the road.
So far in your career, what has been the nicest ITF Pro Circuit venue that you have played at?
All of the venues I have played at in Florida have been pretty nice.  I live in Florida so it is not a big adjustment and I feel pretty comfortable there.
Have there been any amusing on-court incidents that you can share?
On the first point of our Quarterfinal match at the 2012 US Open I got pegged off of an overhead in the worst place imaginable for a guy.  It was so painful and the worst way to start my first Grand Slam Quarterfinal.  At the time it was pretty amusing for everyone but me but looking back now I can laugh at it.
What is the best experience that you had on the ITF Pro Circuit?
My best experience so far was definitely winning my first professional singles title in Sheffield.  It was particularly special because it was such a close match and I had lost to Corrie in the final the week before in Preston.
Which player(s) are you friends with?
Obviously I am good friends with my brother and we talk or text each other almost every day.  I am also good friends with some of the other young Americans.
How has playing on the ITF Pro Circuit helped you as a player?
Every player must go through this stage of their career if they want to be a professional tennis player.  It is the first step for everyone and it is really important because it is where you learn how to deal with the life of being a professional including the constant travel and the ups and downs that come with winning and losing.  I have learned a lot from my experiences on the ITF Pro Circuit so far.
Would you recommend that juniors go on to play the ITF Pro Circuit?
It depends on each individual's level but if they want to become a top professional then yes but each should start at their own time.
Speaking of other male players (both past & present), whose attributes would you combine to create your own male super player?
Serve                        :Sampras
Return of Serve          : Djokovic
Forehand                  : Federer
Backhand                 : Djokovic
Volley                       : Sampras
Positioning               : Federer
Speed on court         : Nadal
Concentration           : Federer
Fighting spirit           : Nadal
Entertainment          : McEnroe
If you could only have one Grand Slam title, which would you choose?
Wimbledon
What has been the best piece of advice you have been given?
I would say being taught by my Dad to have a good work ethic and attitude towards practice.
Away from the tennis court do you have any other interests?
I am a big sports fan in general and like to watch all kinds of professional and college sports, particularly American football and basketball.
Do you have a favourite holiday destination?
Skiing in Colorado.
If you had not become a tennis player what career path would you have liked to have followed?
I would probably have played another sport and most likely American football.
Have you set yourself any specific goals for 2013?
Ideally I would like to be inside the top 150 but I have a long way to go and a lot of matches to play between now and then.
Finally, tell us something about yourself that not many people may already know?
I like country music!
Thanks for your time Christian and good luck on court in 2013!
Photo by: IMG World
connect with us & get a guide
Contact Us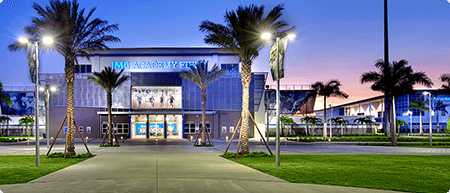 5650 Bollettieri Boulevard
Bradenton, FL 34210
Fill out the form below and we'll be in touch soon!
Request a brochure
We offer downloadable brochures about our boarding school, youth camps, adult programs, team training and pro/collegiate training in multiple languages.
Visit Us
Are you interested in touring the IMG Academy campus? Fill out the form below to submit a tour request and we will be in touch soon to confirm your request.