Javon Walker trains for NFL return at IMG Academy
Not long ago, Javon Walker was unanimously listed among the NFL's elite receivers, with world-class speed that helped him produce seasons like 1,382 yards receiving and 12 touchdowns in one year with the Green Bay Packers. Now, the 33-year-old Walker wants to prove that he can still produce at the NFL level. To get there, Walker has been training daily with IMG Academy speed training expert Loren Seagrave and doing on-field workouts with former Seminoles teammate Chris Weinke.
Javon Walker on...
…why he wants to return to the NFL: I love the game of football. I love everything about it. I love the work ethic. I love the competition. I love the camaraderie. I love it because it comes to natural to me, and I don't want to waste it. Everything about my body is telling me that I need to be out there. I've made a good career, but I don't want it to be finished. I want to win a Super Bowl.
…his current health and ability: I honestly feel like from that point in that year (in the video above), I'm probably faster right now. At that point, nothing was bothering me and nothing was hurting, so I never really had to work on speed. I just had that explosion. In just four days working on technique with Coach Seagrave, I ran a 4.4. I'm just grinding. Now I look at it as, what if I add in the strength training and the daily speed training and the recovery techniques? I know I could run a 4.3. Just watching that, it makes even more sense to me that I need to play again. I know I'm doing everything right. I know how I feel now compared to how I felt in that video. In that video, I was still raw. Everything was natural ability. Now at IMG, I'm learning so much about my body and what I can do. All I need is just one team to believe.
…his daily training regimen: At IMG, you're basically going through what you would during an NFL camp. I get in at 8 and do a Trigger Point warm-up. At 9, I do speed work until 11, then go to the field and do on-field drills and run routes. In the afternoon, I do a combo speed/strength workout, then do a recovery session. I can honestly say that I can report to a team in shape and ready to go immediately.
…how the NFL has changed: Even though it wasn't that long ago, when I was at my peak a lot of the grabbing and hitting was still pretty rough. Now, if you're a big-bodied, physical receiver, you can get away with a lot more than you could five years ago. I think, overall, it's good for the game. Guys in the league right now don't necessarily think about the future. We're taught to go, go, go, but then you suffer the consequences later. Guys at 22 or 23 aren't thinking about their well-being at age 40, they are thinking about right now.
…possible other career tracks: In high school track, I was mostly a jumper. Me and one guy would always go back and forth, and we were two of the top guys in the country. The guy was Walter Davis, who went on to be an Olympian. With baseball, our high school coach asked me just to come out for my senior year, so I said why not? Next thing I know I got drafted, even though I hadn't played since tee ball. I was drafted by the Marlins and went to camp with guys like Gary Sheffield. I played for three years, but football was my natural gifted ability.
…dominating at the JUCO level: Deion Branch and I were on the same team. At the time we didn't realize it, but we were dominant. We won the National Championship that year. You couldn't stop both of us. We're still best friends to this day.
…his Florida State career: Growing up, I didn't know anything about Florida State other than the horse that would ride out before the games and the uniforms. I always wanted to go there just because of that. I got there and it was Chris Weinke and Peter Warrick and all these other guys I watched on TV. I caught the first touchdown in the first two games of the 2000 season – the year after they won the National Championship – and that's when I really knew I could be something.
…how Darrent Williams' death changed his life: Life is short and you can't take anything for granted. He was a superstar on the rise, and his life was suddenly taken away. Anytime you have the privilege to do something, do it with all of your heart and all of your passion, because you have no idea when it can be taken from you.
connect with us & get a guide
Contact Us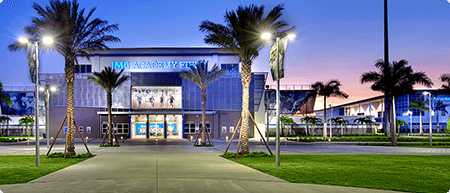 5650 Bollettieri BLVD.
Bradenton, FL 34210
Fill out the form below and we'll be in touch soon!
Request a brochure
We offer downloadable brochures about our boarding school, youth camps, adult programs, team training and pro/collegiate training in multiple languages.
Visit Us
Are you interested in touring the IMG Academy campus? Fill out the form below to submit a tour request and we will be in touch soon to confirm your request.