Kadji returns to Bradenton to prepare for NBA Draft
BRADENTON -- Kenny Kadji embodies the spirit of Robert Frost's famed poem "The Road Less Traveled."
His basketball knowledge was limited, and he faced culture shock upon leaving his native Cameroon for IMG Academy before progressing to the college ranks at the University of Florida and University of Miami.
Now the 6-foot-11, 250-pounder is preparing for the NBA Combine and NBA Draft.
Kadji's hard work and determination have guided the forward to the verge of playing professional basketball.
"It's all about business and preparing guys to make a big jump to a professional level," Kadji said about the program at IMG.
Beginning in Cameroon, Kadji had a growth spurt that made him too tall to play midfield on the soccer pitch. He shot up from 6-foot-1 to 6-8, and the transition to basketball was a no-brainer.
He left for France to hone his skills before departing for America and IMG.
Once in Bradenton, Kadji spent time adjusting to the American lifestyle and learning English.
But the big man's talent, thanks to his foundation in soccer, was always there for coaching staffs to see.
"He has probably the most elite body control that you can have," said Dan Barto, who coached Kadji when he was in high school at IMG. "He has a good base of the performance training and all that. But I think with the soccer in allowing him to really use his lower body a lot when he was younger really helps him now long term. Whereas a lot of basketball players who only play basketball, their lower bodies are really bad and they have no lower body control. He came in with that."
Kadji parlayed the fast rise into a spot with the University of Florida following the Gators' back-to-back national championships.
That pressure, coupled with the colossal jump in style from high school to college, created a difficult transition for Kadji.
He also suffered a back injury and never got into a regular flow with the Gators.
So he transferred to Miami and focused his energy on proving the detractors wrong. To do so, Kadji spent his summer months at IMG working on elevating his game to a level that could net him a standout role with the Canes.
His first year with Miami, Kadji became an All-ACC third-team selection.
This past season, he was named to the ACC's second team. His marquee game came in a home rout of Duke in January, when he scored 22 points on 9-of-11 shooting.
It was a significant victory in the Miami men's basketball program as the Hurricanes defeated a No. 1 team for the first time in history.
"It was a magical game," said Kadji, who is expected to get drafted anywhere from the late first round to the early second round, according to most mock draft boards. "It felt like everything was going right for us and everything was going wrong for them."
Miami was bounced in the Sweet 16 by Marquette, but the Canes and head coach Jim Larranaga revitalized a program long searching for an identity. And Larranaga was instrumental in giving Kadji the space to operate on the floor and showcase his versatile skills as a forward rather than the center spot he was recruited to play at Florida.
"He just really gave me a lot of freedom," said Kadji, who averaged 12.9 points and 6.8 rebounds per game while shooting 35.1 percent on 3-pointers as a senior last season. "He saw my game, and he saw my game is different. Coming out of high school would see me as a center. I just think he saw that's not how I played and I could do different things."
He's back at IMG, with its new basketball courts, to train alongside fellow college basketball players vying for a coveted selection with an NBA franchise in June's draft.
Kadji said he's prepared for the combine, scheduled for May 15-19 in Chicago, because of how seasoned he is now at age 24.
Credit to: Bradenton Herald
connect with us & get a guide
Contact Us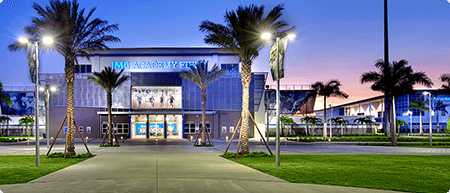 5650 Bollettieri Boulevard
Bradenton, FL 34210
Fill out the form below and we'll be in touch soon!
Request a brochure
We offer downloadable brochures about our boarding school, youth camps, adult programs, team training and pro/collegiate training in multiple languages.
Visit Us
Are you interested in touring the IMG Academy campus? Fill out the form below to submit a tour request and we will be in touch soon to confirm your request.