Kei Nishikori leads rise in tennis in Japan

IMG Academy's own Kei Nishikori is the most accomplished male tennis player in Japan's history, and has trained with the Bollettieri Tennis program since he was 14-year old. On Sunday, Nishikori's contributions to the game were featured in USA Today. 
PARIS — Japan's Kei Nishikori has generated so much history he can be excused for needing to brush up on his own.
When the 13th-seeded Nishikori beat No. 24 Benoit Paire of France 6-3, 6-7 (3-7), 6-4, 6-1 on Saturday to become the first Japanese man in 75 years to reach the French Open's fourth round, the name Nakano Fumiteru left him dumbfounded.
Fumiteru lost in the last 16 in 1938.
"Sorry," Nishikori said. "I'm not good at history."
History has a way of moving in cycles. For Japan's hardworking men, the time has arrived.
Nishikori might be his country's rising son, but he represents the talented tip of the deepest group of male players in Japan's history.
Last year three Japanese players — Nishikori, Go Soeda and Tatsumo Ito — finished in the top 100 for the first time since computerized rankings were introduced in 1973.
Five rank in the top 200 now, which also is an all-time high.
That might underwhelm observers, but many larger countries — China for instance — would salivate at such numbers.
While Japanese women have had more success at the professional level — as many as nine ranked in the top 100 in the mid-1990s, led by former top-five player (and still competing) Kimiko Date-Krumm — most trace the start of Japan's steady rise to Shuzo Matsuoka.
Matsuoka, now a popular television personality, broke the mold as much for his height, dashing looks and net-crashing style as for reaching outside of his country's tight-knit sports establishment for coaching and training.
That assistance came from Bob Brett, the Australian who now coaches Croatia's Marin Cilic and owns a tennis academy in San Remo, Italy.
Brett coached and managed Matsuoka's early development, helping him eventually reach a career-high of No. 45 and notch wins against the likes of Pete Sampras, Stefan Edberg and Goran Ivanisevic.
Photo by: Getty Images
Credit to: USA Today
connect with us & get a guide
Contact Us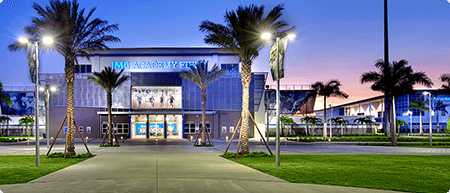 5650 Bollettieri Boulevard
Bradenton, FL 34210
Fill out the form below and we'll be in touch soon!
Request a brochure
We offer downloadable brochures about our boarding school, youth camps, adult programs, team training and pro/collegiate training in multiple languages.
Visit Us
Are you interested in touring the IMG Academy campus? Fill out the form below to submit a tour request and we will be in touch soon to confirm your request.