Kinnelon, N.J.'s Matt Morreale taking his game to the next level at IMG Academy

During the summer of 2011, Matt Morreale arrived on the campus for the very first time looking to achieve a single goal; to become a better lacrosse player. The Kinnelon, N.J. native did double sessions, while taking advantage of physical and mental conditioning sessions alongside other campers. Then a freshman, Morreale was on a mission to make his high school's lacrosse team. Fast forward two years, and now Morreale has taken his commitment to another level, choosing to enroll full-time at IMG Academy for the 2013-14 school year.
"The biggest difference is the attitude" said Morreale. "Back home, the majority of kids don't take sports as seriously, which is fine, but here, everyone shares a common goal of playing for the top colleges. Even in the classroom it's different. Everyone here is really focused." 
Morreale played his club lacrosse growing up for Tri-State and then Colts Elite, and managed to make the cut for his varsity team at Kinnelon High during his sophomore year. Kinnelon has a very competitive lacrosse program that competes against some of the better schools in the country every year on the high school lacrosse circuit. Now a junior, Morreale has been a standout player among the IMG Academy Lacrosse program. Morreale has been among the leading goal scorers through the fall, helping the Ascenders win two U19 division titles at national lacrosse tournaments (Veteran's Cup and IMG Nationals), as the team achieved an unblemished record of 14-0 through the fall. 
Morreale's days consist of academics in the mornings, and athletics in the afternoon. Morreale tackles his college-style schedule with four periods of classes in the mornings from 7:30 a.m. until 12:25 p.m. After lunch, he takes in either a physical or mental conditioning session, followed by practice from 3:30 - 5:30 p.m. It is a full day, but through his hard work, Morreale is seeing positive results on and off the field. 
Morreale is joined by more than 800 other student-athletes at IMG Academy across seven other sports.
connect with us & get a guide
Contact Us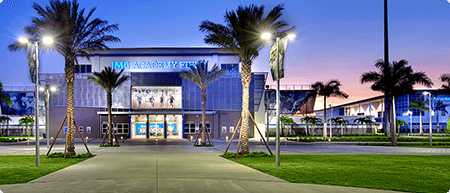 5650 Bollettieri BLVD.
Bradenton, FL 34210
Fill out the form below and we'll be in touch soon!
Request a brochure
We offer downloadable brochures about our boarding school, youth camps, adult programs, team training and pro/collegiate training in multiple languages.
Visit Us
Are you interested in touring the IMG Academy campus? Fill out the form below to submit a tour request and we will be in touch soon to confirm your request.