LaShawn Merritt and IMG Academy training peers ready for week of elite competition

IMG Academy track and field trainee LaShawn Merritt leads a team of IMG Academy-trained athletes into a week of elite completion around the globe. Merritt is coming off a three-victory string, beginning with successfully defending his 400m title at the Prefontaine Classic in Eugene, Ore. at the start of the month. Merritt ran a season's best 44.32 to beat Grenada's Kirani James, who is the defending world and Olympic 400m champion. On June 6, in Rome, Merritt picked up his second 400m victory of the year and sixth win overall this season at the Samsung Diamond League Golden Gala with another sub-45 time.Merritt is only one of five men to post a sub-45 time this season.
Merritt's last stop before heading to the U.S. Track & Field Championships in Des Moines, Iowa, next weekend, was the IAAF World Challenge Meeting International Mohammed VI in Rabat, Morocco. There, Merritt outran another strong field of eight including fellow IMG Academy trainee Angelo Taylor, to claim the 400m title.
Merritt's IMG Academy track and field team training peer, Candyce McGrone, will take on the 100m and 200m fields in the upcoming U.S. Championships. McGrone was the 2011 NCAA 100m champion and a 2011 NCAA All-American in both the 100m and 200m; she turned professional in 2012.
IMG Academy trainee Libania Grenot will represent Italy in the 400m and anchor the 4x400m team in the upcoming European Athletics Team Championships Super League event in Gateshead, England, June 22-23. Grenot's IMG Academy training partner, Matteo Galvan, will also run in the 4x400m relay at the event.
At another upcoming European Athletics Team Championships event (1st League), Aramu Schenkel of Switzerland, also an IMG Academy trainee, will contest the 100m and 4x100m events. Schenkel, 22, is considered one of Switzerland's best sprinters.
David Prince of IMG Academy will compete in the U.S. Paralympics Track & Field Championships beginning this evening with the 200m. Prince is heading into the event with the season's fastest time. He will also compete over the weekend in the 100m and 400m events. Prince is the reigning Paralympic bronze medalist in the 400m.
Merritt, McGrone, Grenot, Galvan and Prince are part of an elite team of professional track & field athletes who call IMG Academy their training home. All are coached by world-renowned speed coach, Loren Seagrave, IMG Academy's Director of Track & Field and Cross-Country. IMG Academy launched a high school Track & Field and Cross-Country program in 2013.
Photo by: Getty Images
connect with us & get a guide
Contact Us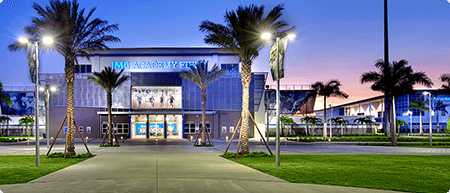 5650 Bollettieri Boulevard
Bradenton, FL 34210
Fill out the form below and we'll be in touch soon!
Request a brochure
We offer downloadable brochures about our boarding school, youth camps, adult programs, team training and pro/collegiate training in multiple languages.
Visit Us
Are you interested in touring the IMG Academy campus? Fill out the form below to submit a tour request and we will be in touch soon to confirm your request.