Manny Ramirez Jr. blossoming at IMG Academy

BRADENTON -- The resemblance is striking, as you'd expect between father and son.
The immense baseball talent is there, too.
And at the rate Manny Ramirez Jr.'s is going, it won't be long before he's playing professional baseball just like his famous dad did for many notable seasons with the Cleveland Indians, Boston Red Sox and Los Angeles Dodgers and a not-so-notable week with the Tampa Bay Rays.
Ramirez Jr., a senior at IMG Academy, is heading to Central Arizona Community College next season, but that could change depending on how high he goes in this summer's Major League Baseball First-Year Player Draft.
"I really haven't heard draft projection, but I would guess somebody would take a shot at him early," IMG head baseball coach Jason Elias said. "And he's going to have one of the premier bats in the class, I think. I've seen some amazing things this spring, and he's really learning what that tool would be like for him."
Ramirez Jr.'s game has gotten better and better with each passing year since he arrived at IMG Academy from Plantation American Heritage as a sophomore.
Now he is blossoming.
He took the most outstanding player honors at the Cleats Sports Invitational Classic tournament in March in Mesa, Ariz.
Ramirez Jr. crushed the ball at the plate, going 12-for-23 with three doubles, two triples, two home runs, 15 RBIs and nine runs scored.
"I just think it's hard work, outworking everybody around you," said Ramirez Jr., who has driven in 27 runs to pair with a .359 batting average this season.
That hard work is evident on a daily basis at IMG. Elias said Ramirez Jr. often reports to training sessions at least a couple hours ahead of schedule.
It's a trait he picked up from his father.
"When I was hitting with him in the Dodgers clubhouse, we used to get there at 1 and he didn't have to report till 4," Ramirez Jr. said. "And we used to just hit and talk about stuff. And having the same mindset ... every day having the same mindset."
But the dedication to get better and not rely strictly on talent alone isn't the only reason why the younger Ramirez is generating solid performances on a routine basis.
He shed 25 pounds coming into the season, and the 6-foot-4, 210-pounder also switched from first base to a corner outfield position, playing almost exclusively in right field.
The decision to go to the outfield was to improve his draft chances this summer.
It's part of the steps Ramirez Jr. is taking to get himself prepared for the next level, and Elias said he'll eventually add the weight back but will do so with muscle.
"He loves the game; he's a passionate kid," Elias said. "He loves being at the ballpark; he's a cage rat. I give him all the credit in the world for wanting to be the best he can be and control what he can control for himself."
A teammate for the past two seasons, former Lakewood Ranch High standout Brett Hanewich has seen Ramirez flourish, too.
They've faced each other in friendly competition a few times, with Ramirez getting a hit off Hanewich and the latter fanning the former in another at-bat.
"I think he's a really humble kid," Hanewich said. "He doesn't talk about himself really at all. ... Every day he comes in and gets his work done, doesn't fool around. And when it comes to games, all that work pays off for him."
connect with us & get a guide
Contact Us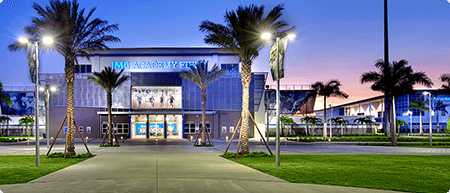 5650 Bollettieri Boulevard
Bradenton, FL 34210
Fill out the form below and we'll be in touch soon!
Request a brochure
We offer downloadable brochures about our boarding school, youth camps, adult programs, team training and pro/collegiate training in multiple languages.
Visit Us
Are you interested in touring the IMG Academy campus? Fill out the form below to submit a tour request and we will be in touch soon to confirm your request.