MEET YOUR NEIGHBOR: Steve Shenbaum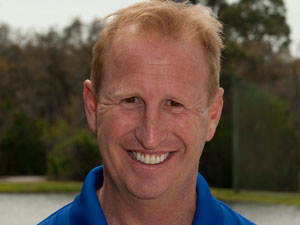 'I never really felt like I was a great actor,' reflects Steve Shenbaum, 'I just felt like I was a great auditioner who loved comedy.' Which becomes an ironic statement given the fact that Steve's career now consists of helping others find the tools to act properly.
If the name Steve Shenbaum doesn't ring a bell, perhaps his role as the Band Camp Counselor in the outrageous teen comedy American Pie 2 will. Or maybe you would recognize him from his stints in EDtv, Space Jam, Will & Grace or Married With Children. Although Steve played those roles with pride, it's his current gig at game on based at IMG Academy that he's most proud of. Today's society generally dictates that we are supposed to take everything seriously, our jobs, our finances, our schooling, and our families. Hell, we're even supposed to take our hobbies seriously. So that's what Steve does - he takes life seriously by choosing to take comedy seriously. See, Steve's company, game on Nation, LLC (yes it's meant to be lowercase) uses Improvisational comedy to help junior and professional athletes, teams and corporation communicate with confidence.
So what does that mean and how does it work?
Well, to fully explain that I'll need to back pedal a little bit into a story that involves Pete Sampras. Yes, THAT Pete Sampras. Steve grew up in Southern California but moved away to Chicago to attend Northwestern as a theatre major where he landed his first professional job as a host on a sports themed show for teenagers that focused on health, fitness and character development, in which a guest professional athlete would teach important life skills. Wow. That was a mouthful. But in 1995 Steve decided to move back to Los Angeles to pursue his acting career. He was an actor, after all. And he did, indeed, act. But his true sense of fulfillment came from teaching others how to act, well, actually, teaching others how to do Improv, which is even more impressive because if you've ever tried to be funny on cue, you know this is scarier than battling a rabid pack of bears while wearing Lady Gaga's meat dress.
One of his first students was Pete Sampras. Pete was a shy, introverted athlete who was represented by IMG , which has a world-class training facility for athletic, academic and personal development headquartered in nearby Bradenton. IMG executives noticed a huge improvement in Pete's social skills, accessibility, media training, even down to his facial expressions. He just seemed more relaxed and that relaxed behavior led IMG to wonder if Steve could help incorporate that same set of skills into all of their athletes down at IMG Academy.
Call it what you want - irony, divine intervention, serendipity, coincidence - but Steve had been checking out IMG, as well, after realizing that Pete was a poster child, of sorts, for an entire athletic youth that could benefit from this kind of learning.
In 2003, at Jerry's Deli in L.A., Steve broke the news that he was leaving his entire family to move across the country to teach sporty kids about humor. "'I'm moving to Bradenton. I can't explain it other than it's the right thing to do," was Steve's reasoning or lack thereof. Although Steve does say that he thinks Sarasota is an untapped, less congested Santa Monica with better weather - so maybe moving wasn't too hard on him.
So ...Voila! game on moved from the biggest acting town in the world to our sweet neighbor, Bradenton.
"There are three things that athletes, executives and teams respond to and that is honesty, humility, and humor. That's it. Don't give me a Power Point presentation....that's just boring. Power Point is not interesting. People are." Hence the power behind game on and why combining Improv with athletes is changing the world.
Essentially, game on helps junior and professional athletes, as well as teams and corporations, improve their communication skills and social confidence while building and maintaining a positive public image. game on has worked with first overall picks in the NFL, NBA and NHL drafts including Cam Newton, Sidney Crosby, Eli Manning, Greg Oden, Alex Smith, Erik Johnson and John Tavares. But why stop there? They have also worked with over thirty 1st round draft picks, numerous college and pro teams and corporations, and thousands of junior athletes at IMG Academy and around the world. Are you impressed yet? I am. That's really impressive that one guy, on his possible rise to fame and fortune, turned his theatre goals into an entrepreneurial adventure that is shaping the positive image of our kids, our society and our athletic role models. If you look up game on you'll find that their goal is to help their clients find their true voice and achieve the right balance of honesty, humility and humor. Honesty, humility and humor. Don't you wish everybody could achieve that goal??
Well, they can. Currently, game on is 'is offered as an elective on campus as part of the Performance Institute at IMG Academy ' explains Steve.
Are you not an athlete? Yeah, me neither. But, fret not! Steve is able to offer game on services off campus, when his schedule permits. Perhaps now would be a good time to let you know that he and his beautiful wife, Jacky, just recently welcomed their first-born into this world. Which probably means that his schedule rarely permits. At least for now. But that's something you'll have to take up with Steve.
When you are done reading this article, Google game on to see if this could benefit you or your family. And check out his other venture, Hire Up, which uses the same Improvisational skill sets as game on but is geared toward helping improve job interview skills to aid in the job market.
Maybe Pete Sampras said it best. "game on has finally helped me feel more comfortable being myself, and more importantly, I'm having more fun both on and off the court and that, to me, is what it's all about."
Links you will want to click:
ps - Steve is totally Googleable (it's a new word) and can be found on IMDb.
Fun Facts about our man, Steve Shenbaum:
As a former athlete himself, he loves to watch Spring Training here in Sarasota.
He wears collar stays.
He thinks Ceviche and O'Leary's are Sarasota gems.
His favorite part of American Pie was the relationship between the lead characters because he's a romantic at heart.
He is very good friends with Sean Hayes, better known as 'Jack' from Will & Grace. (And one of my favorite TV characters of all time. Steve, if you're reading this, please tell Sean 'yes - I would indeed love to have lunch with him should he ever visit.')
connect with us & get a guide