Michael Mmoh tackles his tennis future at IMG

Mmoh came to Bradenton and IMG Academy a year ago from Saudia Arabia to improve his tennis game.
The laid-back 14-year-old tennis player has an ultra competitive side, too.
It's what has catapulted Mmoh onto the tennis scene, most recently giving him a berth into the ITF $10K Futures Tour event and this week's Eddie Herr International Junior Tennis Championship.
At the Herr, Mmoh earned his way as a direct entrant into the boys 18s division, owing to his powerful and mature game.
And although Mmoh lost his first-round match on Tuesday to Gustav Hansson, 7-6 (3), 6-0, the experience is part of a bigger picture.
"When Michael does good, we don't really get too excited," said David "Red" Ayme, Mmoh's coach. "When he doesn't and has a couple learning weeks, and doesn't have the best results like the past two weeks, it's just another step in the process. We will call him out and work on a couple things and try to educate him … so we'll take those principles, put it into play and try to get better each day."
Mmoh features a strong forehand, steady backhand and serve rocketing on the court. He's sparred with ATP Tour players when they are in town as part of his training such as Japan's Kei Nishikori, who is currently ranked No. 19 in the world.
However, nothing has been given to him.
Ayme said he's earned it all.
Ayme has been at IMG for 27 years and coached some well-known players like Tommy Haas, and he sees
the "it" factor surrounding Mmoh that could lead him on the potential star path like Haas achieved.
"If you're a coach, he's one of the things you want to work with," Ayme said. "He's somebody that wants to work to get better. Somebody that wants to be coached. Somebody that wants to be told what he's doing good, but also wants to know what he needs to work on. And he doesn't give you the impression that he knows it all. So I think he's really coachable."
A huge attribute to Mmoh's game is his cool demeanor inside his fiery 6-foot-1 frame. While most players can lose their composure, and subsequently their match, Mmoh is usually calm no matter how he is playing.
He does show emotion, however, and it's designed to harness that energy into a positive result.
Normally, that's accomplished.
"Not always," Mmoh said. "I really want to win, so I try to put things that are not going well on the side and not let it get to me too much."
On Tuesday, Mmoh fell to a player just a notch better at the current stage. But the son of former Nigerian ATP Tour professional Tony Mmoh, who reached No. 105 in the world, has achieved success and isn't done moving forward from the first-round exit.
As a 12 year old, Michael claimed an Orange Bowl victory and reached the finals at the Eddie Herr. Both tournaments are considered the top junior events outside the Grand Slams, with the Orange Bowl dubbed as the "Grand Daddy."
And in two short years, he's morphed his game into a well-rounded display that netted him a berth into the U.S. Open first round of the boys junior main draw through qualification.
He won a match there, and is expected to make his second Grand Slam appearance at the Australian Open as a direct entrant on the boys junior side.
"He's following in a pipeline that developed Tommy Haas, Xavier Malisse, Kei Nishikori," Ayme said. "And at this point in time, he's showing signs of being able to maybe follow in those footsteps. And our goal with Michael is to not really be the next Tommy Haas, but to be the best he can be. And where that lands, we don't really put numbers on it. But we do think he has the super potential to follow that."
Credit to: Bradenton Herald
connect with us & get a guide
Contact Us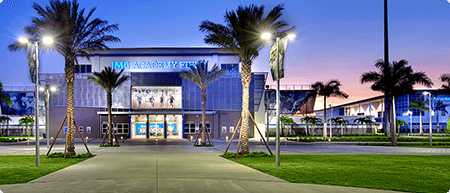 5650 Bollettieri Boulevard
Bradenton, FL 34210
Fill out the form below and we'll be in touch soon!
Request a brochure
We offer downloadable brochures about our boarding school, youth camps, adult programs, team training and pro/collegiate training in multiple languages.
Visit Us
Are you interested in touring the IMG Academy campus? Fill out the form below to submit a tour request and we will be in touch soon to confirm your request.