MLL player Chris Mattes coaching IMG Academy Face-off Camp

MLL player Chris Mattes headlines the IMG Academy Face-off Camp as a guest coach.
Formerly coached by IMG Academy's defensive coordinator Jason Basso at Rutgers University, the USILA All-American has played in the MLL for three years. In 2011, Mattes helped the Boston Cannons win their first MLL Championship. The Westfield, N.J. native played for the Denver Outlaws the following year but returned to Boston in 2013 after being selected sixth overall in the first round of the 2013 MLL Supplemental Draft. Recently traded from the Cannons to the Charlotte Hounds, the face-off specialist is also coaching off the field to give back what he has learned to the sport.
"I want to play MLL as long as I can and I definitely think that coaching helps me develop myself as a whole," Mattes said. "You're always active and working out."
In addition to coaching at X-tra Mile Fitness and his alma mater, Westfield High School, Mattes is leading the face-off specialty camp at IMG Academy that features options of a one-week or two-week immersion program running from June 16-29.
The IMG Academy Face-off Camp focuses on fighting for possession through the development of effective lacrosse face-off skills. An effective face-off serves as a catalyst to gain advantage for the remainder of the play and keep the momentum going. The intensive training program teaches specific techniques and strategies, as well as fosters optimal psychological approaches and mental preparation critical to anticipating opponent maneuvers. The instruction supplements and reinforces IMG Academy's world-class strength and performance training programs to expand each player's abilities and increase success rates for players advancing to higher levels. 
Mattes has seen immediate results and rapid growth among campers. He hopes to continue progressing players and helping them reach the collegiate level and beyond.
"If I could go back to high school, I would go here," Mattes said. "From the coaches and staff to the facilities, everything is top-notch."
Mattes praises the opportunity IMG Academy student-athletes have to utilize resources such as the Gatorade Sport Science Institute and Motus Global, and to train intensively throughout the duration of each academic term instead of seasonally at typical schools. To balance academics, athletics and a social life away from home prepares them immensely for the transition to college.
In the future, Mattes hopes to collaborate with IMG Academy Lacrosse Director Bill Shatz to set up a showcase bringing in the nation's top players and college coaches, but his focus right now is on maximizing the development of the face-off campers at IMG Academy.
Photo by: Zachary Dash
connect with us & get a guide
Contact Us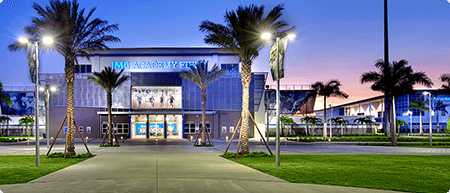 5650 Bollettieri Boulevard
Bradenton, FL 34210
Fill out the form below and we'll be in touch soon!
Request a brochure
We offer downloadable brochures about our boarding school, youth camps, adult programs, team training and pro/collegiate training in multiple languages.
Visit Us
Are you interested in touring the IMG Academy campus? Fill out the form below to submit a tour request and we will be in touch soon to confirm your request.