Motus helps IMG Academy PDL players sharpen their game while helping prevent injury
Many premiere athletes travel through IMG Academy, including top collegiate and aspiring professional soccer players who come here to join the IMG Academy Professional Development League (PDL) team. The PDL is the top developmental league in all of North America, and allows college prospects to take on higher levels of competition without losing college eligibility. IMG Academy offers every athlete some of the top resources to take full advantage of their training time here on and gives them the opportunity to improve their skills. One on the many ways improvements can be made is through the technology that IMG Academy's official motion capture technology sponsor, Motus Global, provides. Motus' main biomechanics research lab is located at IMG Academy and helps athletes along their journey to becoming elite. Their state-of-the-art 3D motion capture lab allows athletes' mobility and flexibility to be assessed. The results of these mobility tests are then compared to the Motus database, and each athlete is issued an individual report. Athletes and their trainers are then able to see which joints and areas of their body need to be worked on in their training program for optimal mobility and range of motion.
Many members of the IMG Academy PDL team went through Motus mobility and stability testing. The testing has shown to be beneficial towards aiding in injury prevention, and gives the coaches a resource to tailor the players' training regimens. ACL injuries and other damage to the knee are one of the leading injuries in the game of soccer. Injuries like this can sometimes take an athlete out of the game for a year or more. By doing the mobility test with Motus, these soccer players can see if their knees or other parts of their bodies are areas that need to be worked in their strength and agility training, which Ben Hansen, Vice President, Biomechanics Application Development for Motus, likes to call "prehab." The test incorporates many plyometric moves such as jump squats and side to side lunges, which can compare to going up for a header or changing the direction of a sprint on the soccer field. They will also to be able to see their symmetry, so they will know if a certain side needs to be focused on more than the other. This personalization allows these athletes' coaches and trainers to customize their workouts to fit their needs.
connect with us & get a guide
Contact Us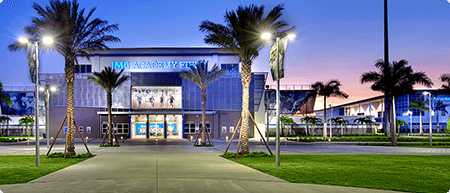 5650 Bollettieri BLVD.
Bradenton, FL 34210
Fill out the form below and we'll be in touch soon!
Request a brochure
We offer downloadable brochures about our boarding school, youth camps, adult programs, team training and pro/collegiate training in multiple languages.
Visit Us
Are you interested in touring the IMG Academy campus? Fill out the form below to submit a tour request and we will be in touch soon to confirm your request.