Nick Bollettieri to be inducted into the United States Professional Tennis Association Hall of Fame
Tomorrow at a special ceremony in Orlando, Fla., IMG Academy's own Nick Bollettieri, the legendary tennis coach that helped develop 10 World No. 1 players, in addition to a multitude of world-class players during his career, will be inducted into the United States Professional Tennis Association Hall of Fame.
Bollettieri remarked, "There are many outstanding professionals that belong to the USPTA that deserve this award as well. I accept this award, but I also acknowledge all the work done by other pros to make the USPTA what it is today."
Founded in 1927, USPTA is the world's oldest and largest association of tennis-teaching professionals. Induction into the Hall of Fame is the Association's highest honor afforded any person, national or international, living or deceased. Inductees have demonstrated exemplary service to the tennis-teaching profession. Inductees must have momentous international and/or national tennis industry or teaching service, be well known by name to teaching professionals in the country in which they reside.
Bollettieri developed numerous champions at the collegiate and professional levels, but his accolades are not limited to his proven coaching method. Bollettieri created a paradigm shift among player development when he founded the world's first fulltime residency and boarding program specializing in sports training in 1978. Now known as IMG Academy, that institution has grown to nearly 500 acres encompassing eight sports, and continues to develop student-athletes on and off the field.
connect with us & get a guide
Contact Us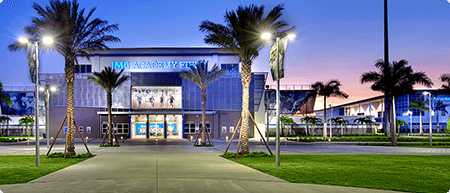 5650 Bollettieri Boulevard
Bradenton, FL 34210
Fill out the form below and we'll be in touch soon!
Request a brochure
We offer downloadable brochures about our boarding school, youth camps, adult programs, team training and pro/collegiate training in multiple languages.
Visit Us
Are you interested in touring the IMG Academy campus? Fill out the form below to submit a tour request and we will be in touch soon to confirm your request.