Nicole Trenka of Puerto Rico wins the IMG Academy Basketball Gatorade G-Award Week of July 1st

Every week at least one athlete from each sport will earn the Gatorade G-Award/IMG Academy Athlete of the Week for displaying Heart, Hustle and Soul, and exhibiting a true desire to reach their true athletic potential.
The IMG Academy Basketball winner of the Gatorade G-Award/IMG Academy Athlete of the Week Award is Nicole Trenka from Puerto Rico.
How long have you been playing basketball for?
I have been playing for about eight years.
Who is your coach?
Coach Shell Dailey, Coach Lakita Ford, and Coach Alyssa Mann have been my coaches this week.
What is your favorite thing about IMG Academy and why? 
It has helped me to improve my skills a lot. They are really encouraging and are always there for you to help you do something better.
Do you have any pre-game rituals that help you prepare for a big game?
I try to relax, take a deep breath, and wait for the game to start.
What professional athlete inspires you the most?
Maya Moore inspires me the most.
What is your favorite thing to do after you win a game?
I like going out with the team after a big win.
What motivates you to push through a tough practice?
That it is going to make me better no matter what. Even if it is hard now, it will make me so much better after.
Photo by: Kristina Puthoff-King
connect with us & get a guide
Contact Us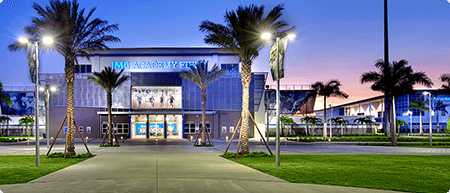 5650 Bollettieri Boulevard
Bradenton, FL 34210
Fill out the form below and we'll be in touch soon!
Request a brochure
We offer downloadable brochures about our boarding school, youth camps, adult programs, team training and pro/collegiate training in multiple languages.
Visit Us
Are you interested in touring the IMG Academy campus? Fill out the form below to submit a tour request and we will be in touch soon to confirm your request.